Overcoming Obstacles on a Florida Roof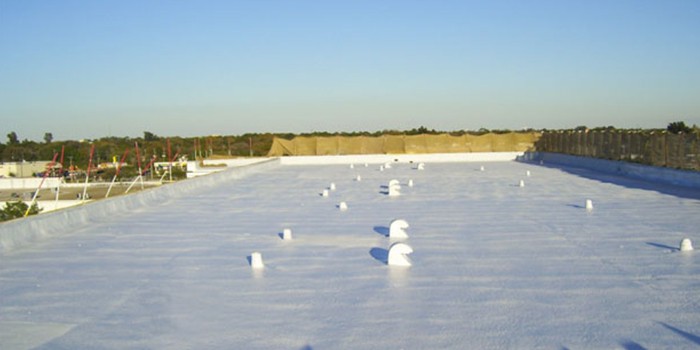 JUPITER, FL – February 28, 2018 – When I received a call for a job in Florida that came from a referral, I quickly realized this project was going to be a major challenge. Working with roofing, spray foam, and even coatings—each project is different. However, this project presented its own set of challenges. We were faced with a three-story apartment building located in Pinellas Park, Florida. Pinellas Park is located in the middle of Tampa Bay, alongside the Gulf of Mexico—so the project would be right in the midst of stifling heat and humid weather. We partnered with Global Sprayers, an independent roof consultant located in Florida, and we were tasked with revitalizing an apartment building roof. With 7,000 square feet of commercial roof, the customer's goal was to get a roof that offered easy, long-term maintenance and superior performance with the ability to withstand Florida's annual hurricane season, as well as the constant expansion and deflation caused by humidity that averages approximately 74 percent throughout the year in Tampa Bay, with a daily fluctuation starting at 57 percent and going up to 88 percent.
An example of ponding issues a roof can face (not the actual roof of this project).
CHALLENGES WE FACED
There were exceptional challenges to this project. However, we also faced many common challenges. Being located in a densely populated area, overspray hazards were a major issue. The roof consisted of low walls, so we installed posts alongside the edge of the roof with burlap strung across. This is a method we use frequently and it prevents any overspray from escaping the roof—even in winds over 10 mph. We also utilized a screen protector surrounding the applicator, which not only prevented overspray from blowing over the roof but also offered an added benefit of sun protection for the sprayer. We had zero reports of overspray.
Safety was also a major discussion prior to starting the project. The low walls also presented a safety concern. To prevent any accidents or fatalities, we installed a perimeter line warning system—which notified applicators if they were approaching a certain distance from the edge of the building. We also implemented roof monitors, who were responsible for being aware of the applicator's location with respect to the edge of the building. Putting these precautions in place kept us from any incidents occurring during the project.
The roof substrate was built up gravel—presenting the challenge of applying spray foam with an even millage of 1.5 inches with 30 mils of acrylic roof coating. To achieve this, first, we leveled out the roof and used a wet vacuum to gather any loose stone. It is common to have old vents, so we replaced those with lead soil stack boots. We also removed loose built-up roofing flashing and replaced it with a suitable substrate and then installed a brand new perimeter coping cap metal. Lastly, we added through wall overflow scuppers to the interior drains.
Roof slope was an added challenge and this apartment building was sloped at >1/4:12. To combat the slope, we used a slope calculator—helping us to determine where the unforeseen challenges were on the roof. Ultimately, understanding the slope helped us to create an even application for the final result.
Ponding is common with uneven roofs or gravel roofs, so it was important to ensure we eliminated ponding. Florida's rainy seasons presents high winds and heavy rains, so we needed to correct the ponding issue by leveling the roof, installing additional spray foam where needed, and ensuring a consistent path with the spray foam and coating—which prevents pocketing or unevenness in the application.
COMMERCIAL EQUIPMENT TO GET THE JOB DONE
We frequently use PMC equipment and decided to use the PMC PH-40 Proportioner on this particular job. The PH-40 is a hydraulic pump that offers the power you need on a spray foam roof, while the 40 pounds-per-minute output allows us to spray at the quantity of material and speed that we needed for a 7,000 square-foot roof. Outfitted with PMC transfer pumps, heated hoses, and a PMC AP-2 spray gun—we had all the power we needed to be confident we could complete the job on time and on budget. For the coating side of the project, we used a Titan air-driven coating pump PowerCoat 940 with a Titan S-7 spray gun.
The level of thickness varied as needed to match the slope of the roof.
Given a specified millage of 1.5 inches average spray foam and 30 mils acrylic roof coating, Lapolla Foam-Lok LPA 2800 Roofing Foam and Lapolla Thermo-Flex 1000 QS Acrylic Coating System were the answers to our application needs. These two types of materials addressed our need to fulfill the customer's goals for easy long-term maintenance and superior performance. Lapolla gave a 10-year manufacturer's warranty, covering the quality of the foam. We have a two-year contractor warranty, which covered any leaks and damage unrelated to extreme weather conditions.
HOW WE GOT THE JOB DONE
The project was scheduled for seven days and we finished on time and within budget. We found this application to be a success, given the obstacles we faced before and during the project. Since this project, the roof has sustained the most recent Hurricane Irma, a Category 5 hurricane with tropical storm force winds, and several other tropical storms.
ABOUT THE AUTHOR: John Davidson is Vice President of Operations at SprayWorks Equipment Group. With over 25 years of experience in the spray foam and polyurea industry, John brings a wealth of knowledge and hands-on experience. He has worked on commercial and residential buildings, bridges and infrastructure. Email John at John@sprayworksequipment.com

---
Disqus website name not provided.