NRCA Announces Updates to Roof Wind Designer Online Wind-Load Calculator
NRCA Announces Updates to Roof Wind Designer Online Wind-Load Calculator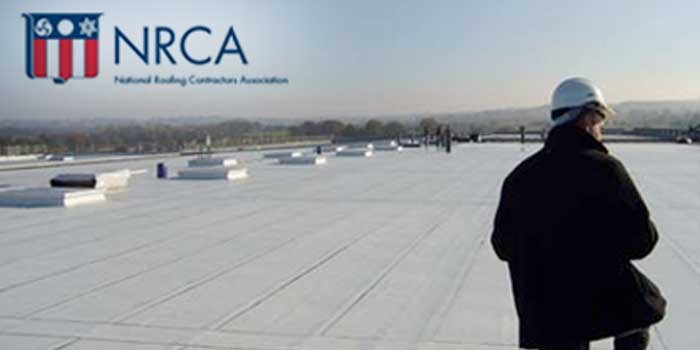 ROSEMONT, IL – April 13, 2015 – The National Roofing Contractors Association (NRCA) has announced the update of Roof Wind Designer, an online wind-load calculator intended to provide roofing professionals with an easy way to determine a roof system's design wind loads for many commonly encountered building types subject to code compliance.

Roof Wind Designer was developed in cooperation with the Midwest Roofing Contractors Association (MRCA) and North/East Roofing Contractors Association (NERCA).

The free Web-based application is based on ASCE 7, "Minimum Design Loads for Buildings and Other Structures", 2005 and 2010 editions. ASCE 7 is a widely recognized consensus standard method for determining design wind loads on buildings and other structures.
RELATED NRCA Responds to OSHA Plan to Impose Federal Rules on State-administered Safety and Health Agencies, Wedge Roofing Awarded for High-Tech Spray Foam Roofing Project, NRCA Announces 2016 Gold Circle Awards Winners

Roof Wind Designer has also been updated to determine design wind loads applicable to perimeter edge-metal flashing system design, which helps compliance with ANSI/SPRI ES-1 requirements.

The application is limited to building heights less than 60 feet and is applicable to roof systems with slopes up to 12:12 and hip roofs with slopes up to 6:12.

For more information visit www.roofwinddesigner.com.

About NRCA: NRCA is one of the construction industry's most respected trade associations and the voice of roofing professionals and leading authority in the roofing industry for information, education, technology and advocacy. It represents all segments of the roofing industry, including contractors; manufacturers; distributors; architects; consultants; engineers; building owners; and city, state and government agencies. NRCA's mission is to inform and assist the roofing industry, act as its principal advocate and help members in serving their customers. NRCA continually strives to enhance every aspect of the roofing industry. For information about NRCA and its services and offerings, visit www.nrca.net
Contact Details
Name: Charlotte Norgaard
Email: Email Us
Phone No: (847) 493-7548
NRCA Announces Updates to Roof Wind Designer Online Wind-Load Calculator