New High Yield AC377 Appendix X Approved Spray Foam
New High Yield AC377 Appendix X Approved Spray Foam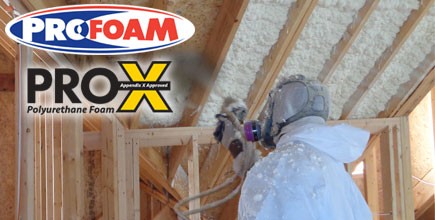 RUTLEDGE, GA - May 27, 2015 - Profoam's Pro-X Brand Open Cell Spray Foam Passes Requirements for ICC-ES AC 377 Appendix X Approved installation in attics and crawl spaces without the need for costly ignition barriers and intumescent paints and coatings.*
Use of a spray foam insulation system that does not require a code approved ignition barrier can save a ton of time on the job and avoid having to purchase, carry and maintain expensive paint and/or coatings equipment. This translates into less cost for you and your customers and can often save jobs that are lost to competitive materials.
Save Time and Maintain Installation Schedule
By avoiding the additional step of having to install an ignition barrier over spray foam in attics and crawl spaces can often save up to an entire day of installation time. This allows you to get to your next "paying" job quicker and significantly increase productivity, revenues and "job turns" on a weekly, monthly and yearly basis. You make more money and your customers get to the next construction phase faster. Using Profoam's Pro-X spray foam insulation translates into a huge financial gain and competitive advantage for your spray foam business!
Excellent Sprayability
The challenge with most Appendix X systems is simply poor sprayability. It has been very challenging for SPF manufacturers to create a sucrose based open cell foam that can pass the AC377 Appendix X test and retain great sprayability characteristics of conventional open cell foam systems. Profoam's new Pro-X system has broken the mold and will amaze SPF contractors with its incredible sprayability, adhesion, yield and low odor. Our system not only out sprays all other Appendix X foam systems out there but surprisingly enough, Pro-X out sprays the majority of the conventional open cell foam systems on the market today.
Greater Yield
Profoam's Pro X open cell spray foam consistently yields up to 17,000 board feet per set, making it one of the highest yielding open cell foam systems on the market. Now you can get a high yielding open cell foam, and get ICC-ES AC 377 Appendix X Approval all in one system. Why buy any other open cell system when you can get higher profits and superior credentials in one spray foam system?
User Friendly Set-up and Operation
Most Appendix X systems on the market are reported to be very finicky to work with and must be "dialed-in" and jobsite adjusted to exactly the right temperature and pressure configurations to avoid poor adhesion, shrinkage and pull-back from the studs. Profoam's Pro-X has been field tested at a variety of temperatures, pressures and gun set-up configurations and performs consistently well at an amazingly wide window of set ups.
Avoid Costly Wait Times and Preheating Steps
Profoam's Pro-X insulation doesn't require pre heating in the material drums, recirculating or any other means of preconditioning the temperature of the material. Other sugar based open cell Appendix X systems can take up to an hour and a half of material conditioning to make "spray ready." With Profoam's Pro-X insulation, simply agitate for 30 minutes prior to application and continue a light agitation while installing just as you would any other conventional open cell foam system.
Reduce Capital Equipment Costs and Save Space in Your Rig
With Profoam's Pro-X insulation you no longer need to purchase, carry and maintain expensive paint and coating pumps, guns and hoses. All of this equipment, in addition to the ignition barrier coatings themselves not only costs a lot of money, but takes up valuable space in your rig that can be used to carry more spray foam or a second spray foam proportioner.
Call us today to order a set of Pro-X and see for yourself that this is a game changing formulation that will give your company a major advantage over your competitors.

* Always refer to local building codes for complete requirements and approvals in your area.
Contact Ted Medford at 855-861-4081 for more information and samples.
Contact Details
Name: Ted Medford
Email: Email Us
Phone No: (855)-861-4081
---
New High Yield AC377 Appendix X Approved Spray Foam