Nationwide Overspray's ISO Certification Reflects Quality Customers Expect
Nationwide Overspray's ISO Certification Reflects Quality Customers Expect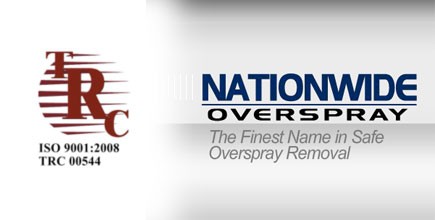 DALLAS, TX–May 10, 2012–Every organization wants an emphasis on quality, but not every company makes the cultural changes necessary to make it so. Nationwide Overspray has made company-wide efforts to instate such quality and has been recognized by the International Standards Organization (ISO) for doing so. The company obtained the highly regarded ISO 9001:2008 Certification in April of 2009.
"We are proud of the certification and extremely pleased with how the quality management system has improved our business processes," said Bryan Lochead, Compliance Manager at Nationwide Overspray..
What ISO means to customers is consistent quality for every project. Nationwide makes sure its overspray removal process is predictable and repeatable from the initial call to the final reporting.
"When customers know their service is ISO certified, they are assured that the end result is what they expect." said Lochead. "In the world of ISO, quality is defined as giving the customer what they expect on a consistent basis."
The ISO audits Nationwide Overspray once a year to make sure our processes and procedures are consistent, high quality, repeatable and predictable.
"The philosophy of ISO can be summed up in these phrases," Lochead said. "Say what you do; do what you say; prove it; review it."
The ISO standards are not rules, but merely a set of guidelines that organizes processes, making the business more cost effective. Part of ISO standards is documenting everything from training, evaluating vendor relationships, profitability and using corrective actions to solve problems.
"In fact, one of the most interesting areas of ISO 9001:2008 certification for me is using root cause analysis for preventive actions and corrective actions," said Lochead. "Only when an issue is thoroughly analyzed can you put into place improvements."
Root cause analysis acknowledges that problems and issues with customers are bound to happen. That being said, if a goal in a company is continual improvement and customer satisfaction, each issue must be documented, analyzed and corrective actions implemented to prevent it from recurring.
"To analyze the issue, we use the 5 Whys approach, which you can apply to nearly everything you do as a company," Lochead said. "It's a simple and extremely effective tool to use."
ISO 9001:2008 certification is an achievement for any company. In the process of developing a Quality Manual, systems, processes, goals, morale and the bottom line will improve for any company. Doing business with a company that is ISO 9001:2008 certified gives a customer confidence that said company will deliver what they promise on a consistent basis.
About Nationwide Overspray: Nationwide Overspray, located in Dallas, Texas, provides on site overspray removal services and claim management for individuals, self-insured entities, insurance companies, paint contractors and auto manufacturers anywhere in the United States. Nationwide Overspray has processed more than 300,000 claims involving paint overspray and other types of vehicle contamination since 1982. Nationwide Overspray is family owned and operated, and is ISO 9001:2008 certified. For more information, please use the contact details and links provided below.
Contact Details
Name: Bryan Lochead
Email: Email Us
Phone No: (972) 243-8882
---
You May Also Like
Nationwide Overspray's ISO Certification Reflects Quality Customers Expect