Moving Forward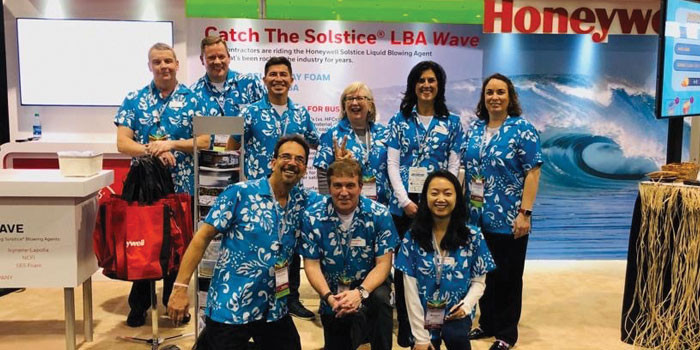 SPRAY FOAM MAGAZINE – WINTER ISSUE 2019 – A conversation with Mengya Li, Global Business Manager, Spray Foam, at Honeywell
Spray Foam Magazine: Can you please tell us a little bit about your background and how you reached the position you are in today?
Mengya Li: I spent my entire career in the chemical industry working on different aspects of the business. After earning my undergraduate degree in Chemical Engineering at Michigan Tech, I started with BASF in the engineering rotation program. I worked at a couple of different plants in Tennessee and Louisiana and was promoted to Manufacturing Technology Manager. It was an awesome opportunity to learn about manufacturing and get my hands dirty. I aspired to become a General Manager and realized I didn't quite have the experience or education to make that transition. Therefore, I applied to graduate school and I got my MBA at Wharton. To learn more about the industry and further build my financial acumen, I joined Barclays Investment Bank as an associate in the Natural Resources Group. It was really cool to see capital markets and learn from investors' perspectives.
From there, I combined everything into my current role as the Global Business Manager, Spray Foam, at Honeywell. It's been a blast to work with colleagues across Honeywell, as well as our customers and contractors who use their systems. I feel very lucky to have met a lot of amazing friends and mentors along the way.
SFM: What is your definition of success?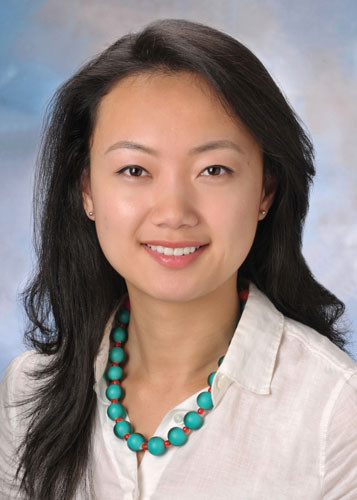 Mengya Li, Global Business Manager, Spray Foam, at Honeywell
ML: A good day and success to me is the feeling that I've done everything I set out to do that day, knowing that I made time for loved ones and myself, and made the most out of it. I often reflect on this during the quiet walk home at the end of the day.
SFM: How does it feel to become a successful female in a mostly male-dominated industry?
ML: I'm very fortunate to live in an era where gender equality and the benefits of diversity are actively discussed and encouraged. I deeply appreciate other pioneers who paved the path for us and gave us the opportunity to push forward. At Honeywell, I work alongside other great female leaders who serve as outstanding mentors and role models for me.
SFM: Can you describe the biggest challenge you have overcome either personally or professionally and how it has affected you?
ML: I'd say learning English. I moved to the U.S. from China when I was 12 and didn't know how to speak English except for "hello," "thank you," and "I'm hungry" after watching 101 Dalmatians. It was a bit of a shock on the first day of school. Doing homework was especially painful. Since this was before the advent of online dictionaries, I had a pocket-size electronic English-Chinese dictionary that I carried everywhere. Every night, I would translate every word in my homework from English to Chinese, write down the answers in Chinese, and translate it back to English. For several months, I would do this until 5 a.m. while bawling my eyes out. However, I knew this had to be done so I did it until I could do homework without using a dictionary or translator. After a year, I could talk to everyone fluently. This experience made me realize if I could overcome a challenge like moving to a new country and learning a new language, I could do anything.
SFM: Do you have a certain routine or plan of attack every day when you arrive at work?
ML: I have a long train ride every morning and enjoy the quiet time to put everything into perspective. I go through my calendar and emails to make a list of things to do each day, in order of priority, and then come up with a plan to tackle it all. By the time I get into the office, I'm ready to jump into action.
SFM: What would you say makes Honeywell stand out amongst the rest of the industry?
ML: Our depth of blowing agent experience and dedication to our customers' success is what sets us apart. The first fluorocarbon blowing agents were invented in the 1940s and Honeywell has remained at the forefront of every major improvement in blowing agent technology since then. Honeywell has invested nearly $900 million in R&D to develop and commercialize solutions with our breakthrough hydrofluoro-olefin (HFO) technology to address the greenhouse gas impact of HFCs. This portfolio of solutions, under our Solstice® brand, helps customers across many applications, lower their carbon footprint without sacrificing end-product performance.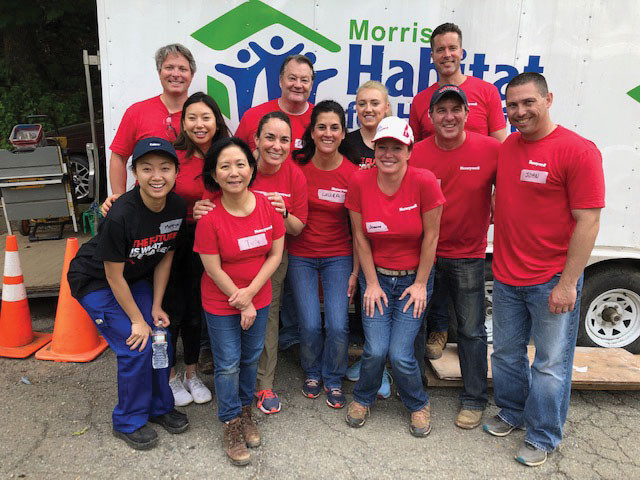 Mengya and the Honeywell team working together for a Habitat for Humanity project.
For the spray foam industry, we offer Solstice Liquid Blowing Agent (LBA) for high pressure closed-cell systems and Solstice Gas Blowing Agent (GBA) for low-pressure systems. They have an ultra-low GWP of 1 or lower, which is 99.9% lower than HFC-based foam systems. They are better for the environment, while also delivering improved foam performance. Many of our customers offer HFO-based systems formulated with Solstice blowing agents and we are excited about the wide acceptance by contractors to these systems.
SFM: Why is it important for SPF contractors to know which blowing agents are used in their systems?
ML: Contractors can benefit from knowing which blowing agent is being used in their SPF systems for two main reasons: First, the blowing agent has a huge impact on how their foam performs. Secondly, environmental regulations impacting SPF blowing agents are becoming increasingly stringent, so it's important to stay informed about the changing regulatory landscape. It also helps when addressing questions from owners, builders, and architects.
We know that many contractors rely on their systems suppliers to ensure that their products meet regulatory and certification requirements. However, by understanding the latest blowing agent technologies, contractors can be confident they are spraying the best systems available.
SFM: With regulations continuing to move toward lower-GWP solutions, how are you helping with the transition to HFO-based closed-cell systems?
ML: We have invested in capabilities needed to meet our customers' needs. We have five years of successful production and supply based in the U.S. Gulf Coast, as well as other production capabilities across the globe. As demand continues to grow, we are continually investing in our assets and expanding capacity.
We also work closely with our customers to assist them with formulation development and testing. Our world-class R&D center in Buffalo, New York, is one of the key locations where our technical service team develops solutions and provides customer support. Our research and technical team consists of 20 experienced professionals, plus supporting lab technicians, who work in state-of-the-art technology centers and provide support for North America, Europe, Asia, India, Middle East/Africa, and Latin America. Collectively, they have over 260 years of foam/polymer industry expertise!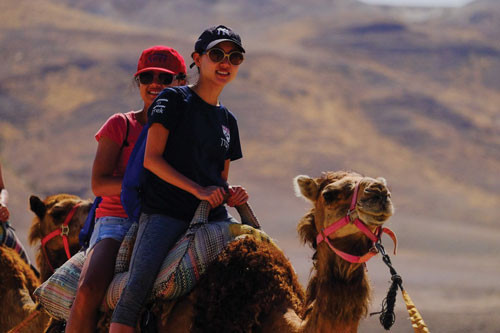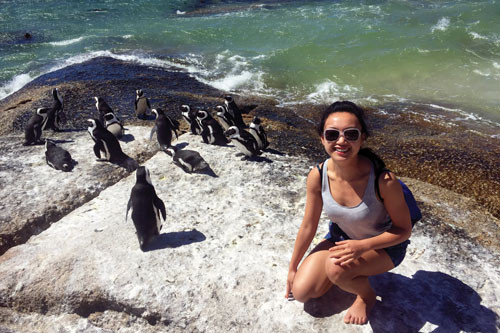 SFM: Is there anything you see happening in the near future that excites you about the direction the industry is headed?
ML: I am very excited about the future of the spray foam industry. More than ever, there is a focus on reducing energy consumption in buildings and homes. Spray foam insulation is uniquely positioned as an excellent solution. Also, concern about global warming and climate change continues to escalate. We are making a difference with our solution. We now offer HFO-based systems that provide an ultra-low GWP alternative to traditional systems, while at the same time improving insulation performance and energy efficiency. In areas prone to severe weather events, closed-cell spray foam has unmatched benefits.
As an industry, we need to continue to work together to tell our story about the benefits of spray foam. We are proud to be part of it and I think the best is yet to come.

---