Most Successful Convention to Date and Legislative News
Most Successful Convention to Date and Legislative News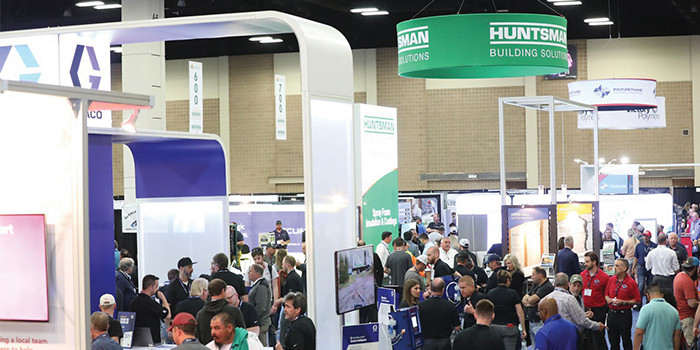 Spray Foam Magazine – Spring 2022 – Just a few months into 2022, the SPFA is celebrating some big news. This year's SprayFoam 2022 Convention & Expo was our most successful to date and we hit an all-time record of 1,518 attendees. As we expected, after two long years apart, you all were as excited as we were to get back to the in-person business of spray foam. We can't thank our sponsors, exhibitors, speakers, volunteers, staff, and attendees enough for making San Antonio an exceptional event.
Some of this year's highlights included: a keynote with construction industry expert and author Shawn Van Dyke, who provided tangible guidance for attracting and building multi-generational teams amidst the current labor shortage; a jam-packed exhibits hall and Exhibitor Showcase, where new products designed to solve contractors' current challenges were presented; the 16th Annual SPFA National Industry Excellence Awards ceremony, where 2022's winning teams and projects again reminded us of the incredible applications and performance of spray foam and elastomeric roof coatings; SPFA Professional Certification Program (PCP) courses, installer training, written exams and FREE outdoor field exams; more than 40 educational break-out sessions; the Annual Golf Tournament; and much more.
The SPFA also promoted its new SPFAdvocacy Network at SprayFoam 2022 during the general session and as part of a breakout session on Wednesday, March 2. The SPFAdvocacy network is open to all members and supporters of the SPF industry. It is free to join and does not require SPFA membership.
Participation in the SPFAdvocacy Network is imperative because throughout 2022, there will be state-level legislation and regulations, many of which improperly target specific SPF chemicals. In February, the SPFAdvocacy network initiated its first campaign in Maryland, successfully influencing proposed legislation that would have eliminated the use of "insulations containing chemical sensitizers" (A-side isocyanates) in weatherization assistance programs. Expanding the grassroots SPFAdvocacy Network as quickly as possible is imperative so the industry as a whole can effectively oppose similar federal and state legislation and regulations, as well as support laws that promote the SPF industry. Joining is free and easy–just text 'SPFA' to 52886 on your smartphone or visit the SPFA website at www.sprayfoam.org.
A final thank you to all of the sponsors and partners who made the SprayFoam 2022 Convention & Expo possible. They include: Platinum Sponsor - Huntsman Building Solutions; Gold Sponsors General Coatings Manufacturing Corp, Universal Polymers Corporation, Thermoseal, Honeywell, SES Polyurethane Systems, Accufoam and Gaco; Silver Sponsors BASF and Carlisle Construction Materials; Bronze Sponsors International Fireproof Technology Inc., Natural Polymers and BOSS; NIE Award Sponsors Arkema and Evonik; Premier Media Sponsors Sprayfoam Professional, Spray Foam Magazine, Roofing Contractor, Walls & Ceilings and CoatingsPro magazines; Media Sponsor Roofing magazine; and Industry Partners Spray Foam World Wide, Silicone Expo, NRCA and International Roofing Expo.
Be sure to keep watch for news about next year's event location and dates. That announcement is coming soon!
ABOUT THE AUTHOR – Rick Duncan Ph.D., P.E is the Executive Director of the Spray Polyurethane Foam Alliance (SPFA), the industry's leading organization representing contractors, material and equipment manufacturers, distributors and industry consultants.

---
Disqus website name not provided.
Most Successful Convention to Date and Legislative News