Mobile Growth for Spray Foam Magazine, SprayFoam.com
Mobile Growth for Spray Foam Magazine, SprayFoam.com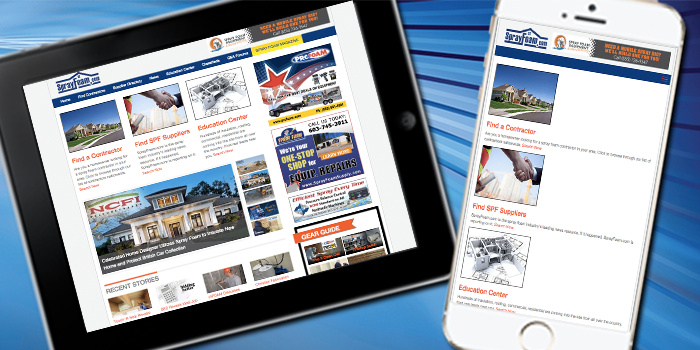 JUPITER, FL–July 10, 2015–Spray Foam Magazine (SFM) and the New SprayFoam.com are taking major leaps when it comes to mobile readership. With the widespread use of smartphones and tablets these days, substantial investments have been made to improve the mobile experience for both SFM and SprayFoam.com.
"Since we first launched Spray Foam Magazine, we've had an unwavering focus on digital publishing and mobile readability," said Editor-in-Chief Ryan Spencer. "Now, we've taken that focus to the next level with updates to the Spray Foam Magazine App, as well as improvements to the New SprayFoam.com."
RELATED Getting to Know the New SprayFoam.com, Part 1: Welcome and News Updates

SFM: Refreshed and Growing
When the digital version of the July/August 2015 Issue launched, Spray Foam Magazine's mobile readers may have noticed that the articles looked pretty amazing. That's because the Spray Foam Magazine App, which is available for free on iPhones, iPads, and Android smartphones and tablets, has undergone extensive upgrades to its reading experience.
The latest version of the App caters to smartphone and tablet readers by maintaining the formatting and style of the standard article view, while fostering readability with larger text. Swiping left or right allows readers to easily navigate between articles. The revamped App gives readers complete freedom in choosing when and where they read the magazine.
The upgrades to the Spray Foam Magazine App come as the magazine's mobile readership has exploded in the past several months. The App has been downloaded nearly 6,000 times, with SFM's mobile audience being comprised of more than one in ten readers.
SprayFoam.com: New and Mobile-Ready
While it's true that the New SprayFoam.com has been in the works for some time now, good things are worth the wait–especially if you prefer reading on your tablet or smartphone.
"We've recognized the growth of mobile content consumption for our magazine, as well as the web as a whole," said Spencer. "So, it was critical for us to leverage that trend in designing the New SprayFoam.com."
The sweeping changes to the New SprayFoam.com are not only apparent on desktops or laptops, but also on tablets and smartphones. When viewed on mobile devices, the website's layout and navigation functionality conform to the size of the screen in which it's being viewed.
"The new website's responsive design is key to reaching our audience going forward," said Spencer. "More people are using the web on their mobile devices, so it's just sensible for us to make SprayFoam.com easier to use on smaller screens."
First announced and demoed in January at the 2015 Sprayfoam Convention & Expo, the new website is set to debut in early July 2015.
About Spray Foam Magazine: Spray Foam Insulation & Roofing Magazine is targeted to a global audience of building construction professionals and energy-conscious readers. It is distributed bi-monthly to applicators, manufacturers, distributors, specifiers, general contractors, architects, engineers, and managers in both the public and private sectors. For more information, or free instant access, please use the links provided below.
Contact Details
Name: Ryan Spencer
Email: Email Us
Phone No: 561-768-9793
---
Mobile Growth for Spray Foam Magazine, SprayFoam.com