Man on Fire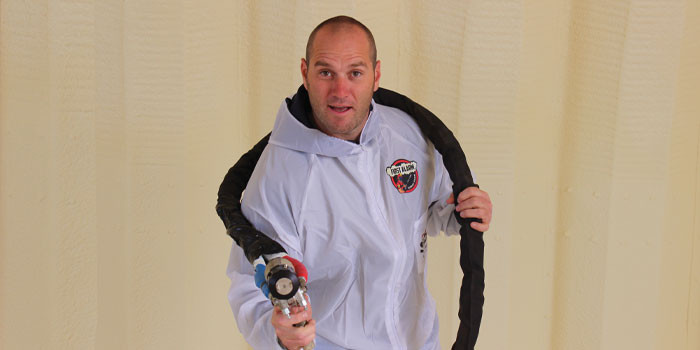 SPRAY FOAM MAGAZINE – Winter Issue 2019 – Daylon Glover, owner of First Alarm Foam Insulation, is a seasoned firefighter and lifetime Texan. At age 29, Glover created First Alarm Foam as a solution to help others like himself who were frustrated with the constant increase in energy costs and looking for ways to supplement their family's income.
Glover was born and raised in Lubbock, Texas. Located in northwest Texas, Lubbock is a mostly flat, dry area that is typically windy and experiences a varying climate. "It's definitely not the landscape that makes me love Lubbock. My kids get excited on overpasses because they feel like they are way up high. What makes Lubbock special to me is that it is filled with a lot of really good people who are doing their best."
The son of Terry and Ella Glover, Daylon grew up in the country on a farm with his fair share of responsibilities. "My dad was the type of guy who had an unbeatable work ethic and one of his main goals was to pass that on to me," Daylon remarks. "If there wasn't any work to be done, he would think up a project to work on. Growing up, working with him was tough, but looking back, I blame my dad for most of my success." In addition to his hard working attitude, Daylon says he inherited much of his sense of humor from his father, "He was always doing or saying something funny. I like to mirror that in my own life because life is hard at times and running a business can be stressful so it's important not only for me to have fun but to try to bring fun to the job site and make it a place my guys want to be. I'm definitely a child at heart."
Daylon explains that he received his work ethic from his father and his business sense from his mother, Ella Glover. Ella is one of the top realtors in west Texas. "My mom has never met a stranger,"says Daylon. "She worked hard growing up and works hard even to this day. My mother is so business savvy, I feel confident she could make almost any business successful." Daylon has been married to his high school sweetheart, Shayla, for over 14 years. The Glover family of four includes their daughter, Adolyn (7), and son, Zayne (5). Daylon playfully says, "I wake up everyday and I think of how lucky she is (...or something like that!)"
Daylon grew up with parents who were home builders, so it is fair to say he has had his hands in just about anything and everything construction-related. When asked how he enjoys spending his spare time, Glover says, "I am an avid hunter and fisherman, and I was even an MMA fighter for five years or so." The Glover family are self-proclaimed "lake rats" and enjoy boating, wakeboarding, tubing, and fishing together. "Family time for me is one of my most cherished times. Between running an insulation business and working as a full-time firefighter, I often don't get many opportunities to hang out with them. But when we do, we all have a blast."
Becoming a firefighter was a pivotal moment in Daylon's life. Ever since high school, he has always run some sort of business. Although he enjoyed home building with his family, Daylon wanted something steady and something he could call his own. Glover had always admired his father during his stint as a volunteer firefighter. When Daylon first began his journey into the fire service, he knew right away that he had found his passion. Daylon remarks, "I love being a firefighter. Soon after I began my career in firefighting, I was blessed with my first kiddo, a perfectly healthy daughter. On my days off (working a 24-hour-on, 48-hour-off schedule), I had the opportunity to play Mr. Mom and take care of Adolyn while my wife, Shayla, went back to work."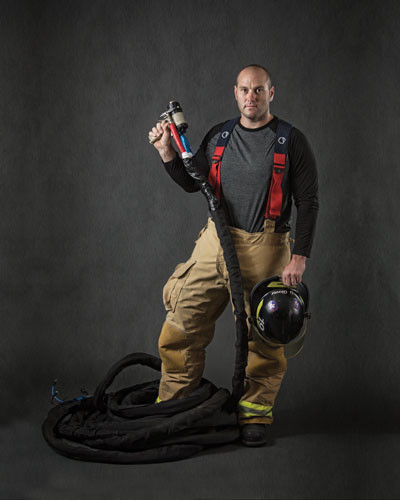 Photo by Captivated Images Photography and Design
Two and a half years later, Glover's son, Zayne, was born. Daylon and his wife decided at the time that it would be best for Shayla to stay at home with the kids. To make up for her income, Glover decided he needed to start a side business. "I chose spray foam because I'm not a salesman. It's a product, that if people do their research, it sells itself." Daylon spent their entire savings on a used spray foam rig and realized failure was not an option. "I bought it second hand because that was all I could afford at the time. I bought it from a guy who didn't know how to take care of it. The rig was crystallized and full of problems. I spent every spare minute for three months straight getting that machine running properly and clearing out that hose. At that time, I had nobody to call and internet searches left me at dead ends. I was forced to fight through it on my own. It was my only option. That three months of hell was a blessing in disguise. During the process, I learned that machine inside and out. I was able to overcome any fear of mechanical failure, then I just had to learn to spray and read the foam."
Glover has nearly a decade of firefighting under his belt. "I love firefighting because I enjoy helping people and stepping forward when everyone else is ready to go the other direction. I was 29 years old when I started First Alarm and I will be 36 in January. I love spray foam because it's a challenge and keeps me on my toes."
To Glover, success is wanting what you have. It's enjoying what you do every day and being able to make a difference to the people in your community and beyond. To stay motivated and driven, Daylon focuses on pleasing customers and providing for his family. A quote from NBA superstar Michael Jordan that Daylon looks to for inspiration goes as follows, "Some people want it to happen, some people wish it would happen, others make it happen." Glover proudly states about his work ethic, "I am a doer and I always do what it takes."
Glover lives by the expression, "Don't sweat the small stuff." It's a daily reminder for Daylon to help stay focused on the big picture and makes it easier to provide good customer service. "I grew up with my dad telling me this as I would get frustrated with life and tough tasks or problems."
Daylon, like most driven individuals, loves to see the fruits of hard work and good energy. "I have been blessed to watch First Alarm Foam grow from nothing to something. I have helped many employees achieve their goals while I have also had the opportunity to grow and learn from them. I feel like if it weren't for the guys I have working with me being such good, clean, honest, hard workers, then First Alarm wouldn't be half of what it has grown in to." Clearly, Daylon understands that nobody succeeds on their own and that it is important to surround yourself with the right people in order to make things happen.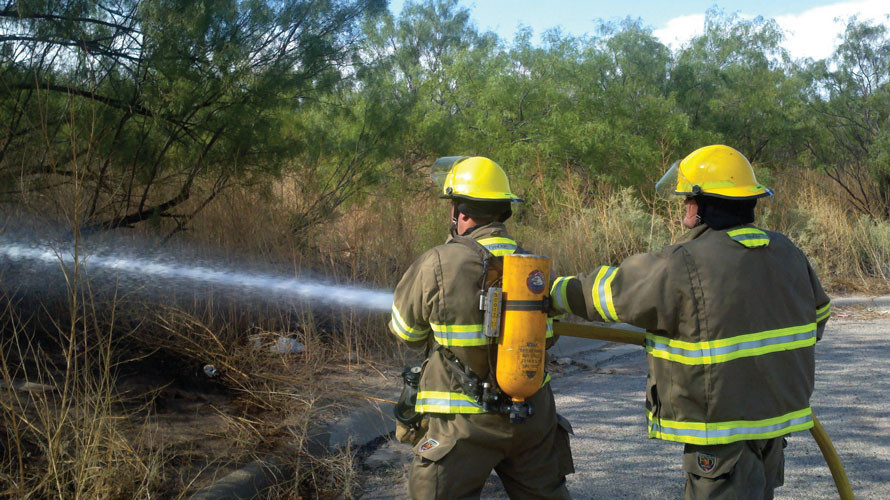 Between running an insulation business and working full-time as a firefighter, Daylon doesn't find much free time. But it is the time with his family that is his most cherished.
Glover is proud of his roots and couldn't be happier to be providing service to the community that raised him. "Lubbock is a unique community with some of the best people on Earth. It is a place that I am proud to call home and I am grateful to raise my kids among these great people." With ever-changing weather conditions, spray foam insulation is the absolute best option when living in an area like Texas. "I always tell potential customers that, of course, I want their business and would love to have them as customers, but more importantly they need to spray foam their property because of the savings and comfort it will give them for years to come." Customer service and honesty are at the top of First Alarm's priority list.
Daylon seems to be a man of many talents, and at one point he even took his skills into the world of Mixed Martial Arts. "During my time as an MMA fighter, I learned a lot. I trained and coached people and even learned how to get punched in the face like a champ. The most profound thing I can say I learned was mental toughness; the mental battle was half the fight." Daylon claims that the lessons he learned while fighting ties right into his work with spray foam. "We've all had those days where nothing is going your way, but you must have the mental fortitude to see it through and complete the job, as well as leaving it a job well done." Whether he is saving lives, fighting in the octagon, or spraying foam with First Alarm, Daylon gives his all in everything he does.
Glover is always hungry to expand his knowledge on building science and spray foam in general. "I am very excited to expand my knowledge every chance I get. I recently earned my Master Installer Certification through the SPFA and plan on earning all of the certifications I can that will give me the knowledge I need to provide a perfect job well done." As Daylon continues to expand his mastery in his field, he plans on sharing what he learns with his team. "I absolutely want my guys gaining all the knowledge they can. I do my best to get us to training every six months or so. I am constantly reading and researching ways to do things more effectively and efficiently and I love it when my guys come to me with ideas they have or information that they have gained from their own research."
Currently, First Alarm is focused on introducing continuous run insulation on residential builds. Daylon and the First Alarm team focus on bringing the best possible product to the customer to ensure spray foam insulation keeps a good name. "I've been very fortunate to have the opportunity to work with great guys. I struggle to call them employees because they are one of the main assets to the success that we have found in First Alarm Foam. They say good help is hard to find, but I have been very lucky to have some of the best in the business. My guys are honest, hard-working, and they take pride in everything they do. I feel lucky with the team I have right now. If I'm at the fire station and not able to be on the worksite, my lead guys go above and beyond to make the customer happy and try their best to make my job as stress free as possible. My number one thing I gotta have is honest guys that care about a job well done as much as I do. And secondly, they've gotta be hard workers. Spray foam isn't for the weak. It's hard work and requires dedication."
Looking to the future, Daylon hopes that First Alarm will continue to grow and be innovative. He wants to see his team running their own crews eventually and providing the best service possible to the people of Lubbock.
To find out more about the services First Alarm provides, visit their website www.firstalarmsprayfoam.com.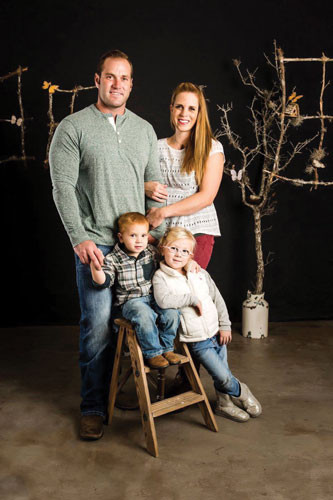 Daylon with his wife Shayla, daughter Adolyn, and son Zayne