Lending a Helping Hand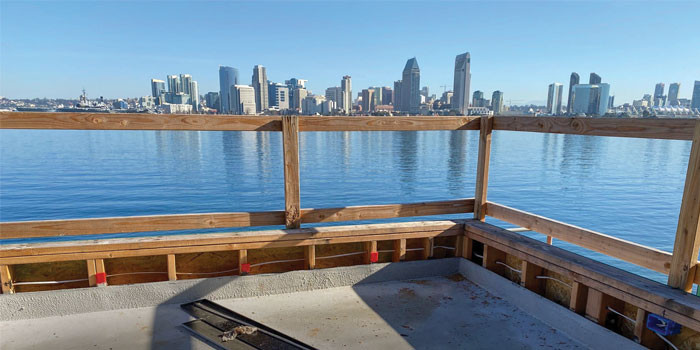 Summer 2020 – Spray Foam Magazine – Scott Todd, owner of Precision Insulation & Coatings provides spray foam insulation for both commercial and residential projects as well as concrete leveling. Todd attended a coatings conference several months ago in Costa Mesa, California, where he met Kevin Page from 951 Construction. Page had his spray foam equipment down and a large workload looming. Todd decided to offer his help for the months of January and February, which would in turn help keep Todd's rig running during the harsh Iowa winter months (where Todd is based). Todd made a 1,700-mile trip to work in Coronado, California for two months doing several projects for Page and keeping his workflow going until his equipment was fixed.
This particular job was a new-construction beach house overlooking a U.S. Naval fleet in Coronado (San Diego area) with the property covering 2,591 square feet. The assignment was to air-seal the attic space, which was similar to a vaulted ceiling, but it was in fact a flat roof. The 1.5-inch application also offered a moisture and vapor barrier even though it was not a thicker application; it still provided some racking strength.
The architect only wanted 1.5 inches of closed-cell foam for air sealing, accompanied by fiberglass. The foam was applied to the underside of the roof deck and some rim joist between the wall and the roof. The team sprayed Carlisle SealTite closed cell foam totaling 1.5 sets of foam. Todd and his team used a Boss 6/12 machine capable of 32 pounds per minute with the Boss Gen 3 air purge gun. Todd highlighted, "I use Boss equipment for the dependability and durability, less breakdowns, high output and simple to operate."
Code requirement updates, in California, came into fruition in January 2020, to decrease home energy consumption even more with the CEC (California's energy code is designed to reduce wasteful and unnecessary energy consumption in newly constructed and existing buildings) increasing the prescriptive insulation R-values in walls and attics in some climate zones.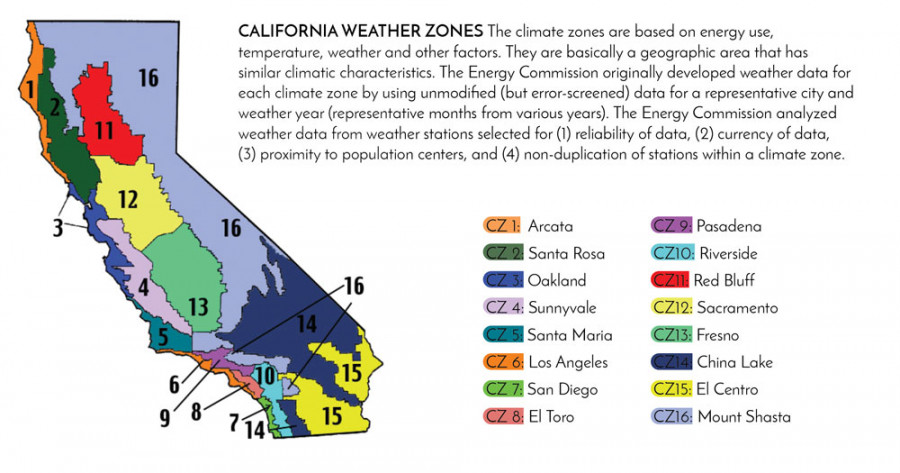 Courtesy of engineering.purdue.edu/DLAT/help/cacz.htm
The changes/additions are as follows:
R-value for insulation below the roof deck in attics will increase from R-13 to R-19 in Climate Zones 4, 8-16
R-value requirements for fill insulation in exterior walls will increase from R19 to R21, while requirements for continuous insulation will remain at R-5, in Climate Zones 1-5 and 8-16.
Another important revision to the 2019 Energy Efficiency Standards changes Quality Insulation Installation went from a compliance credit to a prescriptive requirement. This new requisite will be effective in all Climate Zones, except for low-rise multi-family homes in Climate Zone 7. To summarize, foam is often required to meet R-values where space is limited with fiberglass applications.
The project took the crew 10 hours to spray due to the job site having a lot of obstacles to work around, including stacks of drywall and other onsite trades leaving tools and supplies behind. Additionally, the door frames were already set in the frames making extra prep work for the team.
Todd recalls, "We were able to prep this job in one day and spray it the following day. There were other trades working outside and we were able to give them a fast turnaround time without any problems."
They wore SAS Moon suits, thick rubber gloves and used 3M full face respirators. This property was well ventilated during the application. Through quick thinking and a willingness to help a fellow contractor, both Precision Foam Fabrication and 951 Construction gained and completed work. Clients were happy and a new contractor relationship came into fruition. Many of us can get stuck in our routine, and in our area and sometimes it takes a chance meeting to solve a logistical problem, stay on top of work demands and get the work done with quality and timely applications. These two companies proved that by working together, they not only got the job done, they solved two problems in one.