John Fletcher Stands Down as Chairman of ASTM D01 Paint Committee
John Fletcher Stands Down as Chairman of ASTM D01 Paint Committee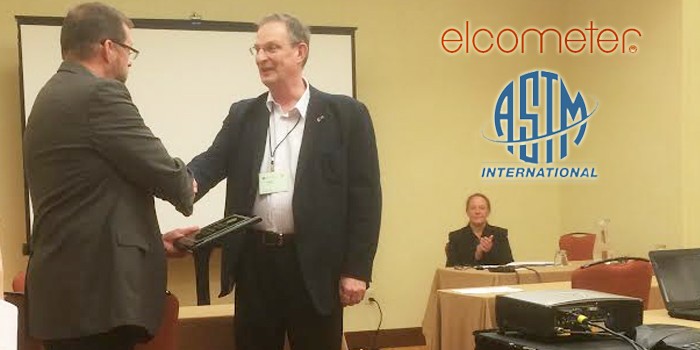 MANCHESTER, UK – March 7, 2016 – John F Fletcher, Elcometer Limited's Technical Support Manager, has now stood down as Chairman of the ASTM D01 Committee on Paint and Related Coatings Materials and Applications after three successive two-year terms in office.
John received an Award of Appreciation in recognition of his outstanding service as an ASTM Committee Chairman from the beginning of 2010 to the end of 2015, at the ASTM D01 meeting in San Antonio, Texas at the end of January 2016.
John has stepped down as the ASTM constitution limits an individual to three successive two-year terms as Chairman of D01. He has now become the First Vice Chairman in support of the new Chair, Cynthia Gosselin.
John will continue in his role as Chairman of D01 Sub-committee D01.23: Physical Properties of Applied Paint Films, which holds its Task Group and Sub-committee meetings on the Mondays when the D01 Committees meet. The D01.23 Sub-committee has 31 standards under its jurisdiction.
The D01 Committee currently has more than 630 members and holds two sets of meetings each year in January and June. The Committee is supported by approximately 30 technical sub-committees and a further 7 administrative committees. D01 is responsible for a total of more than 675 individual standard test methods, practices and guides, which are published in the Annual Book of ASTM Standards, Volumes 6.01, 6.02, 6.03, and 6.04.

RELATED SPI Launches New Website with User Directed Navigation, PMC Introduces New PH-2 Pressure Balance Control, Graco Introduces Reactor 2 – Hydraulic Series Sprayers

These standards have and continue to play a pre-eminent role in all aspects important to the coatings industry including: classification, sampling, preparation, components, application, analysis, quality assurance and end-use performance requirements.
About Elcometer: Elcometer is a leading manufacturer of high quality inspection equipment, with specialised divisions dedicated to coatings inspection, ultrasonic NDT inspection, concrete inspection and metal detection. For information on our full range of products visit our websites; www.elcometer.com and www.elcometerndt.com
Contact Details
Name: Elcometer Limited
Email: Email Us
Phone No: +44 (0)161 371 6
John Fletcher Stands Down as Chairman of ASTM D01 Paint Committee