International Fireproof Technology Inc. Launches Mobile Website
International Fireproof Technology Inc. Launches Mobile Website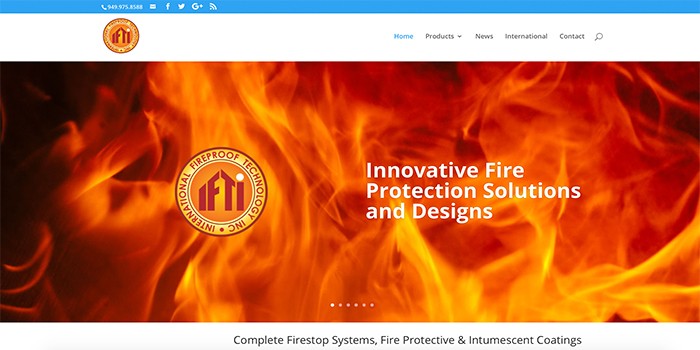 IRVINE, CA – July 3, 2018 - International Fireproof Technology Inc. is proud to announce the launch of their newly upgraded, cutting-edge website, www.painttoprotect.com. The major overhaul is its Secure HTTPS environment, and its mobile friendly design. Major design and technology upgrades exist and combine to offer customers with an eye catching, easy-to-navigate website, that is now simpler than ever to access tech data sheets, testing reports, and other documents. All the latest product information for DC315 to their extensive line of FireStop Products, the latest company news, and information on their international partners can all be found at www.painttoprotect.com and easily accessed through phones, tablets, and desktop devices.
"Our goal on our new website was multifold. We wanted to make the information that you need NOW quicker to find, and most importantly make it very mobile friendly. As International Fireproof Technology, Inc. expands its product offering to include FireStop and Penetrations protection, DC5040 for Wood I-joist and IRC compliance, DC360 our new low cost high performance Class A coating for wood and gypsum, DC68 UL listed to protect most material from fire propagation, and our new suite of fire protection products for SPF we understand the importance of quickly getting what you need," says Gary Wolfe, Executive Vice President of International Fireproof Technology Inc. "I personally invite you to visit our NEW website at www.painttoprotect.com and please do not hesitate to email us with your likes or comments."
The digital marketing landscape changes daily, and the capability of digital advertising and marketing for your SPF business is enormous. It has never been more powerful! With the right mix of social media presence, a strong website, and email and mobile campaigns, huge increases in business and marketing success are at your fingertips. Niche Digital Media, home of SprayFoam.com and Spray Foam Magazine, are the creators of the new website and specialize in helping the SPF industry develop a stronger digital presence.
About International Fireproof Technology Inc. (IFTI)
International Fireproof Technology Inc. (IFTI) is the manufacturer of the industry leading DC315 intumescent coating for the 15 minute thermal barrier protection of spray foam insulation. IFTI also manufactures an innovative, simple to use and cost effective line of firestop products, intumescent fire retardants, thermal barriers and fire protective coatings. IFTI's products help stop the spread of fire, smoke, and hot gases over combustible substrates such as cables, wood, gypsum, I-Joists and fabrics. Designed and tested for the global market, IFTI products are fully listed and compliant to many international standards such as NFPA, ASTM, UL, ULC, Intertek and FM. Check out the new IFTI website at www.painttoprotect.com
About Niche Digital Media
The creators of SprayFoam.com, Spray Foam Magazine, and Florida Coast Magazine are bringing insulation companies to the top of their digital game. SprayFoam.com has been #1 on search engines for over a decade, it is the reason it has enjoyed so much success in the industry. Niche Digital is now extending that in an offering to the Spray Foam industry and beyond. With the market changing every day, manufacturers, suppliers and contractors can turn to Niche Digital Media for website building, digital marketing, Lead Gen and multimedia needs services.
For more information contact Tawny Gaines, Editorial Development Manager for Niche Digital at Tawny@sprayfoam.com or call her at (561) 701-1902.
Contact Details
Name: Tawny Gaines
Email: Email Us
Phone No: (561) 701-1902
---
International Fireproof Technology Inc. Launches Mobile Website