International Fireproof Technology, Inc. Expands Production Capabilities
International Fireproof Technology, Inc. Expands Production Capabilities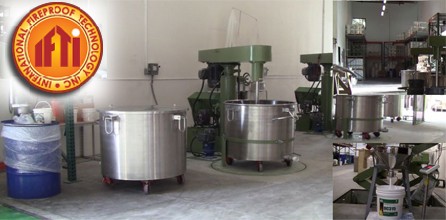 Irvine, Calif.- October 5, 2011 - International Fireproof Technology, Inc. recently announced that the company has doubled its production capabilities to support the demand for DC315.

IFTI has now passed over 30 Thermal and Ignition Barrier tests over Lapolla, NCFI, Johns Manville, BASF, Quadrant, SWD, Arnett, Icynene, Corbond, and Bay, Gaco. DC 315 is sold in North America, South America, Australia, Europe, Egypt and New Zealand.

"Sales are record breaking and we needed to increase our production capabilities to support fast turn around and availability of DC 315," said Gary Wolfe, executive vice president of IFTI.

DC 315 is a one¬ coat; water¬ based latex paint that offers superior fire protection over foam, according to IFTI.

The coating meets the low VOC emission requirements for use in classroom and office environments as defined in the CA DHS Standard Practice.

Thus, the testing requirements are met to qualify the product as a low ¬emitting material in the "Collaborative for High Performance Schools" rating system.

The product applies like regular latex paint using an airless sprayer, and being water ¬based, offers easy clean up.

About International Fireproof Technology Inc.:
International Fireproof Technology, Inc. (IFTI) manufactures state of the art intumescent fire retardants and thermal barrier coatings. Designed and tested for the global market, IFTI's products are widely used in hospitals, restaurants, nursing facilities, commercial buildings and residential homes. IFTI's products fall under the paint to protect brand, and have been developed to provide superior cost-effective fire protection over Polyurethane Spray Foam, Wood, Fabrics and Drywall.
Contact Details
Name: Richard Guarnieri
Email: Email Us
Phone No: 949-306-4253
---
Disqus website name not provided.
International Fireproof Technology, Inc. Expands Production Capabilities