IFTI Introduces DC315 in Black
IFTI Introduces DC315 in Black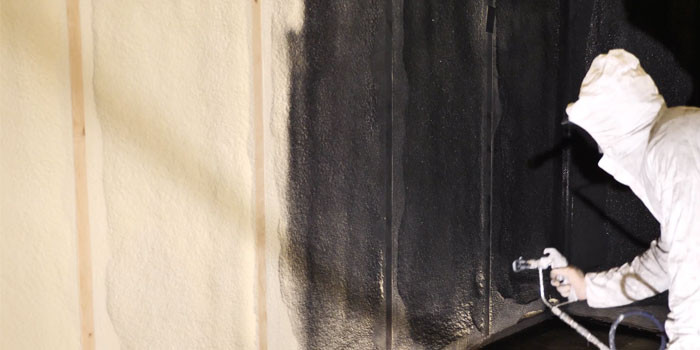 IRVINE, CA - March 20, 2019 – International Fireproof Technology, Inc. (IFTI) recently conducted multiple FULL SCALE NFPA 286 fire tests using its new DC315 BLACK COATING for use as a 15 Minute Alternative Thermal Barrier or Appendix X Ignition Barrier for SPF.
Instead of just supplying the coating to consumers, IFTI ran it through full scale fire testing. "Why would we do this? The answer is simple—to reduce yours and your customers liability and to prove DC315 Black is fully tested and provides the same level of fire protection to that of our other standard colors," explains Gary Wolfe, Executive Vice President of IFTI. "This level of assurance not only reduces liability but eases acceptance by your local authority."

IFTI has spent over two years working with world leaders in Tint and Chemical Technology to develop their Black solution. Why did it take so long? DC315 is inherently white and traditional tints or colorants required the addition of such high amounts that the intumescent features of the coating would be compromised.

Wolfe states, "While other coating manufacturers may claim to have a black solution can they show you multiple full-scale tests proving their black coating passes? Is black listed on their "Evaluation Report" or "Product Listing" proving the properties are unaffected? The answer is simple – No, and without these the Black Coating does not comply to IBC/IRC Building Codes."

To assure compliance, IFTI updated their evaluation reports (see section 4.0 of ER-499) and product compliance listings to include the DC315 Black, all backed by testing and accredited 3rd party verification.

"Making a black coating is NOT as simple as tinting a product black," Wolfe adds. "It must be manufactured and tested to ensure its performance and DC315 Black is the only fully tested Black Intumescent Thermal barrier on the market today!"

About International Fireproof Technology, Inc.
IFTI manufactures state-of-the-art intumescent fire retardants and thermal barrier coatings. Designed and tested for the global market, IFTI's products are widely used in hospitals, restaurants, nursing facilities, commercial buildings, and residential homes. IFTI's products, including DC315, fall under the Paint to Protect brand, and have been developed to provide superior cost-effective fire protection over spray polyurethane foam. For more information, please use the contact details and links provided below.

Contact Details
Name:
Email: Email Us
Phone No: 855-335-7675
---
Disqus website name not provided.
IFTI Introduces DC315 in Black