Icynene Spray Polyurethane Foam Insulation Provides Comfort Through the Winter
Icynene Spray Polyurethane Foam Insulation Provides Comfort Through the Winter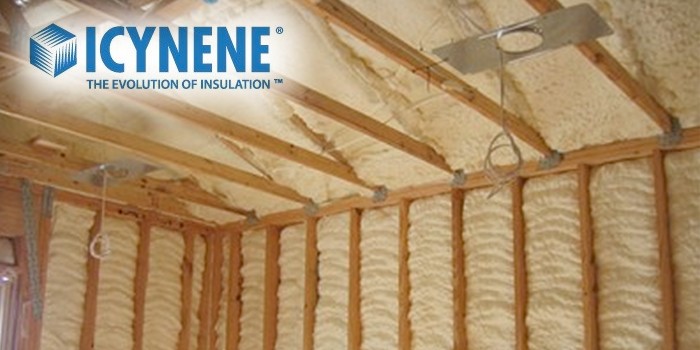 MISSISSAUGA, ON – January 27, 2015 – With winter here, leading spray foam insulation manufacturer Icynene is encouraging Canadians and Americans to prepare their homes for the long, cold months ahead.
Winterizing your home can include simple tasks such as reprogramming the thermostat, weather stripping windows and doors, and conducting maintenance on the furnace, however, a more impactful solution may be needed for effective long-term management of your home's energy efficiency.
"Making the transition from traditional home insulation to the modern alternative of spray foam insulation will offer positive, long-term gains for homeowners. This is because spray foam insulation expands to both seal and insulate the home's walls, floors and ceilings which helps to reduce air loss," says Betsy Cosper, Vice President of Marketing at Icynene.
When a home is properly insulated by a licensed spray foam contractor, homeowners can anticipate consistent temperatures, a reduction in monthly heating and cooling costs, and a quieter living space. Spray foam insulation also helps control moisture and mould growth, as well as assists in minimizing airborne allergens and irritants from entering the home.

RELATED Two Weeks Until the 2016 SPFA Convention & Expo, SprayFoam.com To Unveil Rig Contest Winner at SPFA Convention & Trade Show
About Icynene Corp.:
Established in 1986, Icynene helps to build energy efficient residential and commercial structures in over 31 countries worldwide. Our portfolio of industry leading light density open cell and medium density closed cell SPF solutions are both insulation and air barrier materials for improved indoor air quality and reduced energy costs making Icynene the smart choice for builders, architects, building owners, and homeowners.
Contact Details
Name: Icynene Marketing Communications
Email: Email Us
Phone No: 855-622-7070
Icynene Spray Polyurethane Foam Insulation Provides Comfort Through the Winter