Icynene Spray Foam Insulation Provides Indoor Comfort Throughout the Upcoming Winter
Icynene Spray Foam Insulation Provides Indoor Comfort Throughout the Upcoming Winter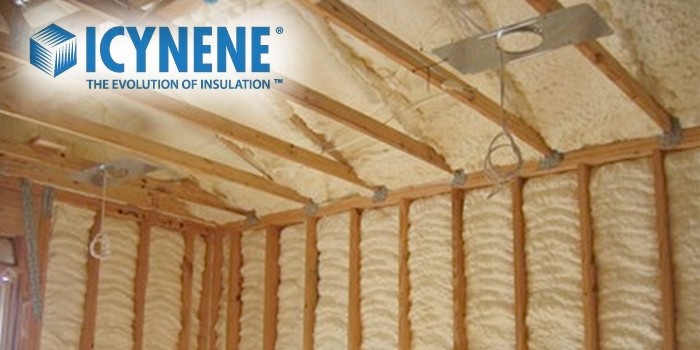 MISSISSAUGA, ON – September 17, 2015 – With winter fast approaching, leading spray foam insulation manufacturer Icynene, is encouraging Canadians to begin prepping their homes for the long, cold months ahead.
Winterizing your home can include simple tasks such as reprogramming the thermostat, weather stripping windows and doors, and conducting maintenance on the furnace, but for an effective long-term solution that will help improve the home's energy efficiency and your comfort, a more impactful solution may be needed.
"These last two winters have been extremely cold and harsh. Furnaces had to work overtime to keep the home heated, or to reheat homes after prolonged power outages. In order to be better prepared this winter, it is a good idea for homeowners to start assessing their needs now. Look over your energy bills, check your windows, doors and insulation for gaps, and determine the best steps to take in order to add value to your home, save energy and keep your family comfortable," says Betsy Cosper, Vice President of Marketing at Icynene.
Making the transition from traditional home insulation to the modern alternative of spray foam insulation is a step that will offer positive, long-term gains. This is because gaps and cracks in traditional insulation allows air to pass through, letting heat escape and the cold air to get in. Spray foam insulation, on the other hand, expands to both seal and insulate the home's walls, floors and ceilings which prevents air leakage and in turn, helps keep your home at a more even temperature. This allows homeowners to reduce energy consumption, control indoor air temperatures, and lessen their environmental impact.
RELATED Spray Polyurethane Foam Market to Develop at 7% CAGR Owing to Surging Demand from the Construction Market, Report Says, Greenbuild and NAHB Announce New Strategic Partnership , ICC, ASHRAE Outline Roles to Consolidate IgCC and 189.1 in Response to Call from Industry, Polyurethane Foam Market Growing at 7.5% CAGR to 2020, Research Says
As Canadians begin to winterize their homes, it is a good idea to consider spray foam insulation as part of this process, however, homeowners should only work with licensed spray foam contractors.
When a home is properly insulated with spray foam insulation, you can anticipate consistent temperatures, lower monthly heating and cooling costs, and a quieter living space. It also controls moisture and mold growth, as well as helps minimize random airborne allergens and irritants from entering the home.
Developed and launched in Ontario in 1986, Icynene pioneered water-blown, low-density, open-cell spray foam insulation. Considered the industry leader, Icynene now offers both open and closed-cell spray foam insulation to homeowners, builders and architectural design firms so that there is a spray foam solution for every project.
About Icynene Corp.: Established in Canada in 1986, Icynene helps to build energy efficient residential and commercial structures in over 31 countries worldwide. Our portfolio of industry leading light density open cell and medium density closed cell SPF solutions are both insulation and air barrier materials for improved indoor air quality and reduced energy costs making Icynene the smart choice for builders, architects, building owners, and homeowners. For more information, please visit www.icynene.com.
Contact Details
Name: Icynene Marketing Communications
Email: Email Us
Phone No: 855-878-9695
Icynene Spray Foam Insulation Provides Indoor Comfort Throughout the Upcoming Winter