Icynene ProSeal LE: Efficiency In The Installation And In R-Value
Icynene ProSeal LE: Efficiency In The Installation And In R-Value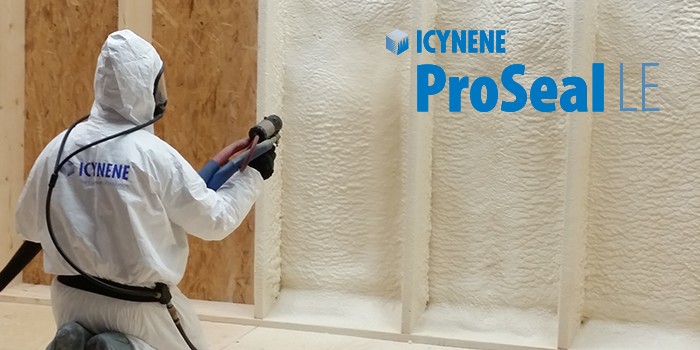 MISSISSAUGA, ON – February 6, 2017 – Spraying polyurethane foam on commercial projects means adhering to a tight job schedule. This tight time frame can be nerve-wracking when it comes to achieving specified R-values, especially when cure times for multiple layers of foam and any necessary topcoats are taken into consideration. It simply takes time to build the foam up to achieve the required thickness, while avoiding an exothermic reaction. Or at least it did.
Icynene introduces a game-changing product, Icynene ProSeal LE. A high-performance, closed-cell, low-exotherm spray foam insulation, Icynene ProSeal LE offers the ability to achieve R-35 in an initial five-inch thickness in the first pass.
Paul Duffy, Icynene's Vice President of Engineering explains, "Icynene ProSeal LE can be sprayed up to five inches thick in one pass, with zero wait time to immediately achieve a value of R-35. Then, you can spray an additional five inches on top of this and get R-69." That means R-69 can now be achieved intwo passes.
Although it achieves such remarkable thicknesses, Icynene ProSeal LE is rated as a Class II vapor retarder at a thickness of just 1.5 inches and has an Aged Thermal Resistance of 7.1 per inch.
RELATED RPM Acquires Consumer Foam Brand Touch 'N Foam , Dow's Energy Efficiency Innovations Support Advancement of Green Technology Development in China, Icynene Launches New Look, Customer-centric Website
Designed for construction types I through V, Icynene ProSeal LE is suitable for use in both exterior and interior applications and has a low VOC content that allows for re-entry in one hour and re-occupancy in two hours following ventilation. It also is available in a single formulation that is suitable for year-round use so there is no need to calculate for winter or summer blending.
Further, Duffy states, "As with all Icynene's offerings, it is certified Greenguard Gold. This means that it is stringently UL tested and found to have acceptable levels – or no trace of – over 360 known volatile organic chemicals (VOCs)."
It also meets prerequisites for and may contribute toward the following Leadership in Energy and Engineering Design (LEED) for new construction points:
EAP2: Minimum Energy Performance
EAC1: Energy Performance
IEQP1: Minimum Indoor Air Quality Performance
ProSeal LE also meets and may contribute toward the following LEED for Schools points:
EAP2: Minimum Energy Performance
EAC1: Energy Performance
IEQP1: Minimum Indoor Air Quality Performance
IEQP3: Minimum Acoustical Performance
IEQC4: Low-Emitting Materials
IEQC10: Mold Prevention
"Icynene's continued Greenguard Gold certifications and subsequent LEED recognition are testament to our commitment to innovation and to delivering responsible, high-performance insulation materials that move the industry forward," says Duffy.
Thicker Spray Saves Time And Money
The fact that Icynene ProSeal LE helps contractors achieve specified thicknesses faster and with less material represents savings in time, labor, and in costs as well. "We are aiming to help shorten construction schedules and installation times," Duffy explains. "By helping everyone to be more efficient and effective, we all win."
Contractors who partner with Icynene – whether with this cutting edge product or with a Classic favorite – know that they are working with a partner who invests in product innovation. "Contractors who work with our high-quality products first do so knowing that they gain tremendous support from our technical, engineering, and marketing teams. That support helps train them to not only use the product, but also to grow their own business," Duffy continues.
Icynene's ProSeal LE is environmentally and fiscally sound – and happens to shave critical time off of the job too. If you are interested in learning more, please visit, www. http://www.icynene.com/en-us/architects/products/product-portfolio-commercial/proseal-le-commercial
About Icynene: Established in 1986, Icynene helps to build energy efficient residential and commercial structures in over 31 countries worldwide. Our portfolio of industry leading light density open cell and medium density closed cell SPF solutions are both insulation and air barrier materials for improved indoor air quality and reduced energy costs making Icynene the smart choice for builders, architects, building owners, and homeowners.
Contact Details
Name: Icynene Marketing Communications
Email: Email Us
Phone No: 855-622-7070
Icynene ProSeal LE: Efficiency In The Installation And In R-Value