Hyde IBS Presents New Spray Foam Cutting Blade
Hyde IBS Presents New Spray Foam Cutting Blade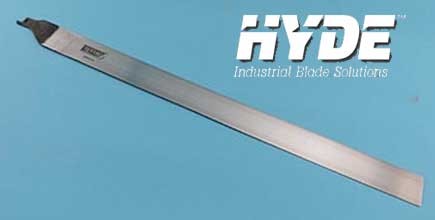 SOUTHBRIDGE, MA – October 23, 2014 – Eliminating the laborious use of hand saws or the need to carry single-use power tools, a new Spray Foam Insulation Reciprocating Saw Blade from Hyde Industrial Blade Solutions (IBS) is designed to assist in the swift and clean cutting of poly-based spray foams using a tool found on most job sites.
Fitting into a standard reciprocating saw with a 1/4" tang, the new Spray Foam Insulation Reciprocating Saw Blade measures 19" in overall length with a long 16" cutting length. Made of high-carbon steel, the Spray Foam blade and its tang are hardened for long-life and improved operator safety when in use.
Engineered to cut and trim foam without gumming up the teeth on the blade or power tool itself, this double bevel, straight-edged blade is glazed with a polished finish during a proprietary production process to prevent sticking when cutting foam that has expanded into unwanted areas or when pre-cutting material in the field or bulk sheets or rolls in small production runs.
Starting with a wide range of the highest grade alloy steels including powdered metals, Hyde employs proprietary processes in blanking, laser cutting, heat treating, grinding and polishing to ensure superior cutting performance of each individual blade. Manufactured in facilities with ISO 9001:2008 plant certification, durable Hyde IBS blades are engineered for long-life.
About Hyde Industrial Blade Solutions: Backed by 140 years of experience, Hyde Industrial Blade Solutions is a leading producer of industrial knives and blades for a wide variety of markets including food processing, cloth and textile and leather, hose and tube, tire and rubber, package converting, paper and packaging and abrasives as well as for general industrial applications. Hyde Tools, Inc. is the largest manufacturer of industrial machine and hand knives and tools for remodeling, restoration, building trades and do-it-yourselfers in North
Contact Details
Name: Hyde IBS
Email: Email Us
Phone No: 800-872-4933
Hyde IBS Presents New Spray Foam Cutting Blade