Huntsman Inaugurates Shanghai Campus
Huntsman Inaugurates Shanghai Campus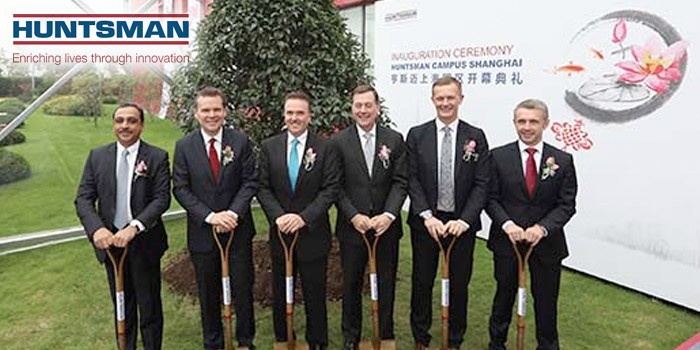 SHANGHAI, CHINA – December 6, 2016 – Global chemical company Huntsman Corporation inaugurated the Huntsman Campus Shanghai in the Minhang Economic & Technological Development Zone.
The Campus brings together all of Huntsman's Shanghai employees in one location, with the objective of significantly boosting collaboration and synergies within the Business – which in turn will significantly enhance Huntsman's innovation performance and service to customers. A key element in achieving this vision, has been the transition of 200 employees from Huntsman's Hongqiao, Shanghai offices to the new Campus. There are now 500 employees and 100 contractors together on the Minhang site, representing all parts of the Company – from R&D through to commercial delivery, as well as all of the business functions.
The 40,000 m2 Campus comprises Huntsman's Asia Pacific Technology Center (ATC), which opened in 2008 and houses state-of-the-art laboratories, machine halls, analytical & testing centers and training facilities; administrative offices for the commercial, marketing and functional teams; and a downstream formulations facility for Huntsman's Polyurethanes business which first opened in 1996.
An inauguration ceremony for the Campus, hosted by Peter Huntsman, President and CEO of Huntsman and Tony Hankins, CEO Asia Pacific, was held at the site today. More than 200 guests, including local authorities, Huntsman's customers, suppliers, employees and corporate officers attended the ceremony.
RELATED ACC Testifies Before Trade Commission on Importance of TPP to U.S. Chemicals Sector
Speaking at the ceremony, Peter Huntsman said "The greatest output of this site will be the production of human creativity and interaction. This site is an investment in the future. It is through our co llective efforts that we will be able to build upon the successes of the past generation and provide hope and opportunity to future generations."
Huntsman employs 1,400 people in China and has sales of over $1 billion – more than 10% of total global sales. China is Huntsman's second largest national market after the United States.
Peter Huntsman, President and CEO of Huntsman (third from left) and
Tony Hankins, CEO Asia Pacific (fourth from left) Attends Ribbon Cutting
About Huntsman: Huntsman Corporation is a publicly traded global manufacturer and marketer of differentiated chemicals with 2015 revenues of more than $10 billion. Our chemical products number in the thousands and are sold worldwide to manufacturers serving a broad and diverse range of consumer and industrial end markets. We operate more than 100 manufacturing and R&D facilities in approximately 30 countries and employ approximately 15,000 associates within our 5 distinct business divisions. For more information about Huntsman, please visit the company's website at www.huntsman.com.
Forward-Looking Statements: Statements in this rele ase that are not historical are forward-looking statements. These statements are based on management's current beliefs and expectations. The forward-looking statements in this release are subject to uncertainty and changes in circumstances and involve risks and uncertainties that may affect the company's operations, markets, products, services, prices and other factors as discussed in the Huntsman companies' filings with the U.S. Securities and Exchange Commission. Significant risks and uncertainties may relate to, but are not limited to, financial, economic, competitive, environmental, political, legal, regulatory and technological factors. The company assumes no obligation to provide revisions to any forward-looking statements should circumstances change, except as otherwise required by applicable laws.
Contact Details
Name: Michelle Xiao
Email: Email Us
Phone No: +86 21-33576432
---
Huntsman Inaugurates Shanghai Campus