Huntsman Building Solutions Welcomes TGS V4 Standards
Huntsman Building Solutions Welcomes TGS V4 Standards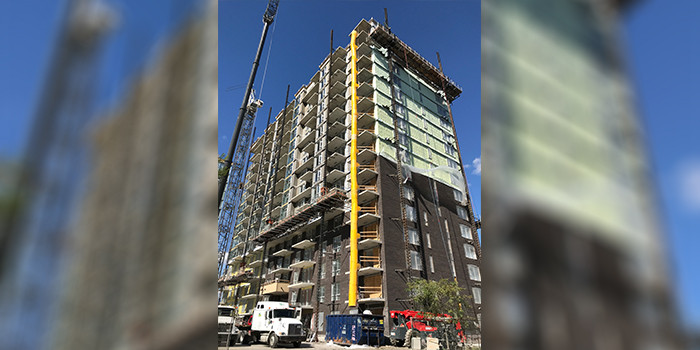 BOISBRIAND, QC – May 20, 2022 – HUNTSMAN BUILDING SOLUTIONS, a global leader in high performance, sustainable, building envelope solutions welcomes the Toronto Green Standards (TGS) Version 4 with its Environmental Product Declaration (EPD) and innovative spray foam systems. Architects and building designers who are bringing to life modern building designs and aiming to achieve high performance, high quality, low-emissions buildings can future-proof their commercial, industrial, institutional, residential, and agricultural projects with the company's HEATLOK SOYA HFO closed-cell spray foam insulation.
"The sustainable and green building regulatory environment is always changing for the betterment of our built communities," says Mickel Maalouf, senior representative of sustainable building science with Huntsman Building Solutions. "We strive to anticipate and address upcoming potential requirements with our constant research and development, and by advancing innovation in our products and application methods. Our EPD line up consisting of HEATLOK SOYA HFO closed-cell spray foam insulation meets the new TGS Version 4 requirements."
The building design community is pursuing energy savings and selecting carbon smart materials. Developed in accordance with strict ISO standards, including ISO 14044, ISO 14040, ISO 14025, ISO 21930, and EN 15804, HEATLOK SOYA HFO's EPD is the first and only spray foam insulation with a product-specific, Type III EPD made and verified externally. The EPD is based on the spray foam insulation 's Life Cycle Assessment (LCA), which evaluates the products' impacts in six key Environmental Impact Categories, one of which is Global Warming Potential, or GWP. As demonstrated by the EPD, HEATLOK SOYA HFO GWP performance comparative to other insulation options is:
39% lower than the spray foam industry average (SPFA)
up to 96% lower than HFO extruded polystyrene
77% lower than heavy density mineral wool
52% lower than light density mineral wool
55% lower than unbonded loose fill and blown-in mineral wool
These comparisons account for embodied carbon prior to consideration of additional building energy savings and the resulting operation carbon emission saving made possible with spray foam.
"Customer centricity is integral in everything we do," says Doug Brady, Chief Strategy Officer with Huntsman Building Solutions. "Our aim is to proactively anticipate the needs of architects, specifiers and building engineers by providing modern and sustainable insulation solutions with EPD for their designs, while giving builders innovative insulation solutions and also working with applicators to improve efficiency and durability."
Huntsman Building Solutions, through their ecothermal approach to product design, while leveraging advanced and sustainable technology meets TGS Version 4 market demands. An independent, third-party document, completed by Sphera and certified by UL, provides objective and comparable information about the lifecycle impacts and emissions of their two spray foam products HEATLOK SOYA HFO leverages 4th generation blowing agents. It also contributes to LEED v4 credits and other green building rating systems. The EPD comparison results also show that by simply substituting all insulation types and membranes in traditional assemblies insulated with mineral wool, HFO polystyrene board stock and fiberglass with the single product HEATLOK SOYA HFO at an equivalent R-value, the assembly's GWP is cut nearly in half (45% reduction in GWP).
HEATLOK SOYA HFO VS Fiberglass
Architects and building designers need to plan and design to adapt the new requirements. Greenhouse Gas Emissions (GHG) and energy consumption represent a significant cost of building operations. As demonstrated in its product specific EPD, HEATLOK SOYA HFO has lower embodied carbon than the spray foam industry average, which shortens its Carbon/Environmental Payback Period. HEATLOK SOYA HFO will offset/cancel its higher initial embodied carbon compared to fiberglass in only 4 years. Afterwards, during the remainder of its service life, HEATLOK SOYA HFO will prevent the release of 110,000 kg of CO2e (carbon equivalent) that would be released in the atmosphere using fiberglass insulation – that's the net positive environmental impact of HEATLOK SOYA HFO over fiberglass. Moreover, the yearly energy savings directly translate to annual energy cost savings for homeowners and building operators. Spray foam and HEATLOK SOYA HFO provide more energy and carbon savings in a shorter period compared to fiberglass insulation.
To learn more about Huntsman Building Solutions and the company's complete suite of energy efficient building solutions, visit HuntsmanBuildingSolutions.com. Join the company on Twitter, LinkedIn, Facebook, Instagram and YouTube.
About Huntsman Building Solutions:
The Huntsman Building Solutions business is a global leader in high-performance, sustainable building envelope solutions. Its systems and solutions are widely utilized to optimize commercial and residential structures worldwide in both new construction and retrofit applications. Formed in 2020 with the acquisition of Icynene-Lapolla and its combination with Demilec, the Huntsman Building Solutions business capitalizes on legacy industry technologies, environmental stewardship, and the power of the Huntsman brand. For more information, visit huntsmanbuildingsolutions.com.
SprayFoam.com
Spray Foam Magazine
---
Disqus website name not provided.
Huntsman Building Solutions Welcomes TGS V4 Standards