Honeywell Announces First "Hit a Foam Run" Promotion Winner
Honeywell Announces First "Hit a Foam Run" Promotion Winner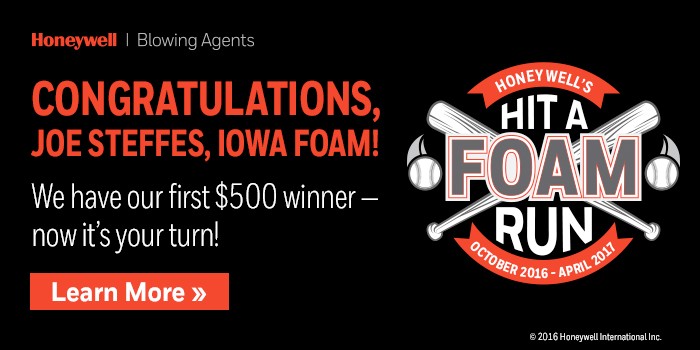 MORRIS PLAINS, NJ – November 14, 2016 – Honeywell announces Joe Steffes of Iowa Foam Building in Nevada, IA as the first winner of the "Hit a Foam Run" promotion. Steffes is the first of many winners that will be named between now and when the contest ends on April 30, 2017. Joe received a $500 gift card after he entered a company project into the sweepstakes. His company used closed-cell spray foam (ccSPF) featuring Honeywell's Solstice ® Liquid Blowing Agent for the interior walls and doors of a 10,000 square foot commercial building. They also used this Solstice LBA-based system for a rather unique project, the inside of a deer blind.
RELATED New Home Sales Climb to Highest Level Since October 2007, Meritage Homes Debuts Affordable LiVE.NOW.™ Homes with Spray Foam Insulation for First-Time Homebuyers, OSHA Releases Updated Recommended Practices to Encourage Workplace Safety and Health Programs
The Honeywell "Hit a Foam Run" contest is open to all spray foam contractors.*To enter, participants sign up and share a small amount of information about a ccSPF project. It only takes a few minutes! All projects completed after July 1, 2016 are eligible and you can enter now through April 30, 2017. Participants can submit multiple projects, large or small. Each month, two winners will be randomly chosen to receive $500 gift cards. At the end of April, one Grand Prize winner will receive an all-expenses paid trip for two to watch the Professional Baseball Game of Stars in Miami in July 2017 (approx. $7,000 value)
For more information or to enter, visit https://www.honeywell-spraytoplay.com.
Contact Details
Name: Xuaco Pascual
Email: Email Us
Phone No: (804) 737-4362
---
Honeywell Announces First "Hit a Foam Run" Promotion Winner