Holding Out for a Hero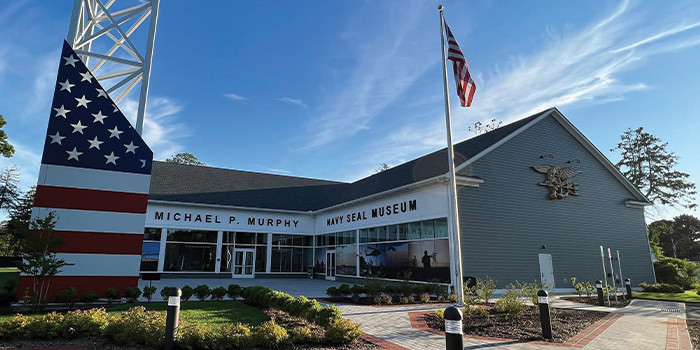 Spray Foam Magazine - Fall 2022 – Michael Delfino Jr. is part owner of Delfino Insulation, a family owned and operated business since 1955. The company started with a small pickup truck and garage, with Michael Delfino Sr. at the helm. Together with his sons and grandchildren, Delfino Insulation has since grown into a multi-faceted, insulation company with a reputation of going beyond the responsibilities of a typical subcontractor.
In July 2019, in Bohemia, NY, Delfino Insulation was being asked to help build a museum in memory of Navy SEAL LT Michael P. Murphy, who earned the Medal of Honor for sacrificing his life for his team on a mission in Afghanistan in 2005. Delfino Jr. called upon Peter Cantone, the Northeast Sales Director at Profoam Corp., a leading manufacturer of custom turnkey spray foam rigs and supplier of spray foam materials, to ask for a favor.
Delfino asked Cantone if Profoam could donate the spray foam material for this project. Peter Cantone discussed the project with Profoam's President Ted Medford who was eager to help out. Ted in turn reached out to Mitch Clifton, EVP of NCFI Polyurethanes to ask for their support. NCFI Polyurethanes, is a division of Barnardt Manufacturing Company, and was organized in 1964 with headquarters in Mt. Airy, NC and is one of the most patriotic SPF material suppliers in the United States. Mitch quickly agreed to work with Profoam and donate the SPF material needed for Delfino Insulation to insulate the museum.
Clifton commented on why NCFI got involved in this project, "This was a joint effort to support our Armed Forces and our customer. NCFI is an American-owned business, so it was exciting for us to get involved in this kind of memorial. Our SPF material has been used on military bases all around the country, so this military museum project made perfect sense to us."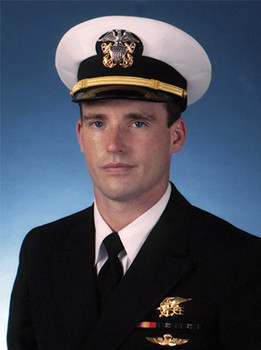 Navy SEAL LT Michael P. Murphy
LT Michael P. Murphy was born May 7, 1976, in Smithtown, NY. At a young age, his parents, Dan and Maureen, moved him and his brother, John, to Patchogue on Long Island. After graduating, Murphy was accepted into a few law schools, but he chose a different path. He wanted to become a Navy SEAL.
By July 2002, Murphy had earned his trident, making it through all the courses required to become a SEAL, and by 2005, he was an assistant officer in charge of a platoon. On June 27, 2005, Murphy took part in Operation Red Wings as the leader of a special reconnaissance team. Their mission: to locate Ahmad Shah, a high-level anti-coalition militia leader in the Hindu Kush Mountain range east of Asadabad, Afghanistan. With LT Murphy were three fellow SEALs: Petty Officer 2nd Class Danny Dietz, Petty Officer 2nd Class Matthew Axelson and Petty Officer 2nd Class Marcus Luttrell. In the enemy-controlled area the SEALS came across three goat herders, who they questioned and let go.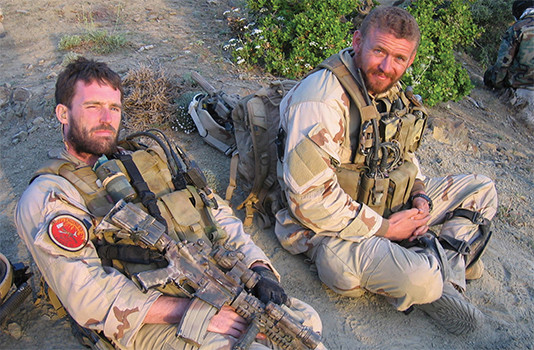 Luttrell later said of his compatriot, "Mikey was the best officer I ever knew, an iron-souled warrior of colossal and almost unbelievable courage in the face of the enemy."
It's since understood that these men reported the SEALS to the Taliban. Consequently, enemy fighters swarmed the area where LT Murphy and his team were located, and a considerable firefight proceeded resulting in four of the SEALS being injured.
Even though bullets were continuously raining down on the SEALS, LT Murphy was determined to contact headquarters. Realizing he could not get a signal in the extreme terrain, he risked his own life and moved into the open to make the call to save his men. This heroic act robbed him of cover and made him a target for the enemy. Murphy eventually got through to the SOF Quick Reaction Force at Bagram Air Base and requested assistance. He provided his unit's location and the size of the enemy force while asking for speedy support for his team. During this call LT Murphy was shot in the back causing him to drop the transmitter.
Even though he was severely injured, LT Murphy completed the call and sustained firing at the enemy who was closing in. Severely wounded, LT Murphy returned to his cover position with his men and continued the battle.
This call resulted in a MH-47 Chinook helicopter bringing an additional eight SEALs and eight Army special operators, to come help retrieve the four men. However, as they got nearer to the fight the helicopter was hit with a rocket-propelled grenade and crashed, killing all 16 men onboard.
During the next few hours, LT Murphy and his men fought the enemy across hills and over cliffs. Eventually, though, Murphy, Dietz and Axelson were killed. A grenade exploded, throwing Navy SEAL Luttrell over a ridge, leaving him unconscious. When he woke up, the injured SEAL managed to avoid the enemy, finding some compassionate locals who hid him in a nearby village. On July 2, 2005, U.S. forces managed to rescue him, crediting LT Murphy's brave actions and the call he made.
This mission, and LT Murphy's heroic acts, later became a motion picture, Lone Survivor, starring Mark Wahlberg as Marcus Luttrell – the only survivor from that mission. Every hero needs to be remembered and what better way than building a museum in their memory.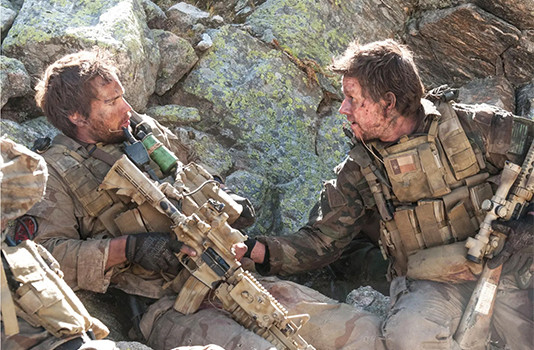 The events of the Operation Red Wings mission were depicted in the 2013 movie Lone Survivor . Taylor Kitsch (left) played Michael Murphy and Mark Wahlberg (right) portrayed Marcus Luttrell. (Images Courtesy of Universal Studios Licensing LLC).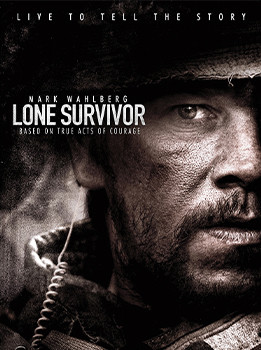 With a strong sense of community and love for the area and its people there were numerous reasons for Delfino Insulation to get involved in this noteworthy and heartfelt project. Coincidently, Delfino's life partner, Kristen Perrier, was good friends with LT Murphy when they were growing up and were lifeguards at the local lake together and knew Murphy and his family well. The museum is also in the next town over from where Delfino Insulation has been situated for the past seventy years.
With Long Island summers being warm and humid, and its winters very cold, snowy, and windy, closed-cell foam was the ideal insulator. With its compact cell structure, it's a great air and water vapor barrier as well.
The architect for the build specified that they wanted spray foam in certain areas. Delfino had three crew members on site, and with full PPE, they applied two inches of NCFI InsulStar 1.7, an HFO high-yield, 1.7 lb. closed-cell foam to the exterior walls and the metal beams. NCFI's EVP Mitch Clifton clarified, "NCFI led the way on high yield HFO products, so it made sense to offer our best product for this project."
The job was a challenge purely due to the stop and start over a two-year period due to pandemic restrictions. Like many reputable insulation companies, Delfino Insulation found a way to work with the situation, and with the project having many different stages they adapted accordingly. Delfino emphasizes, "There were a lot of people donating their time and their materials, it was essential to work through it and we got the job done." As well as working with Profoam and NCFI, Delfino worked with another company called Appalachian Supply for additional building materials.
Peter Cantone was thrilled to be invited to attend the Grand Opening Ceremony of the LT Michael P. Murphy Navy SEAL Museum on Tuesday, June 28, 2022. The opening hosted over a thousand attendees, including VIP military officers, politicians, and celebrities. Former President George W. Bush also sent a video message to welcome the first guests, highlighting "From their earliest days in World War II, Navy Special Warfare forces have occupied a special place in American military history."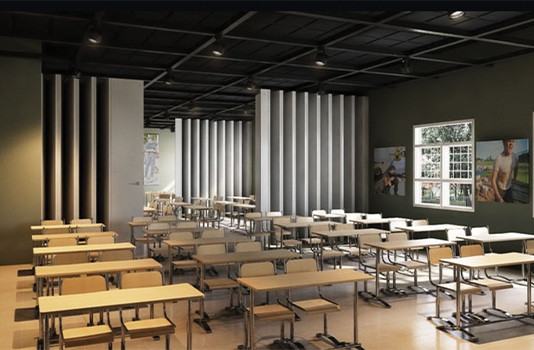 The classroom of the museum will also serve as a learning center for the U.S. Naval Sea Cadets. Michael always believed that "education will set you free" which has become the foundation for the design of the museum site.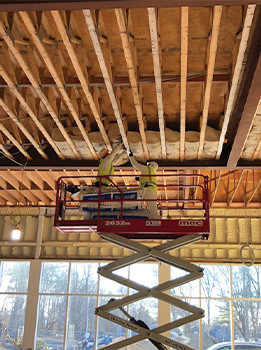 The Delfino Insulation crew installed NCFI InsulStar closed- cell foam to the exterior walls and the metal beams. Mitch Clifton, NCFI's EVP, reflected, "NCFI is proud to be involved in such an outstanding project assisting our Armed Forces and giving a little back to those who give all."
Cantone elaborates on this special event, "Two SEALS parachuted down. One with the SEAL Flag and the other with the U.S. Flag. Dan Murphy, LT Murphy's father, also spoke at the event. I was also able to meet and thank SEAL Marcus Luttrell. I shook his hand and thanked him personally." Marcus Luttrell, now a retired United States Navy SEAL, has previously received the Navy Cross and Purple Heart for his actions in June 2005 against Taliban fighters during Operation Red Wings in which he is the lone survivor.

Many thanks were given to all the suppliers and contractors who were able to make this special museum a reality. A big thank you to Delfino Insulation, Profoam Corp. and NCFI Polyurethanes for working together to support this accomplishment.
The Operation Red Wings 2005 firefight was the single largest loss of life for Naval Special Warfare since World War II. The only comfort gained from this horrific event is that Murphy, Dietz, Axelson and Luttrell took out roughly 35 Taliban fighters with their courageous actions.
Supplying and applying a quality material like SPF within this special museum was a small way of showing appreciation to these brave SEALS. Although the disruption of the pandemic caused numerous setbacks, the crew, supplier, and manufacturer, all held out for a hero and completed the job.

---
Disqus website name not provided.
You May Also Like