Gun for Hire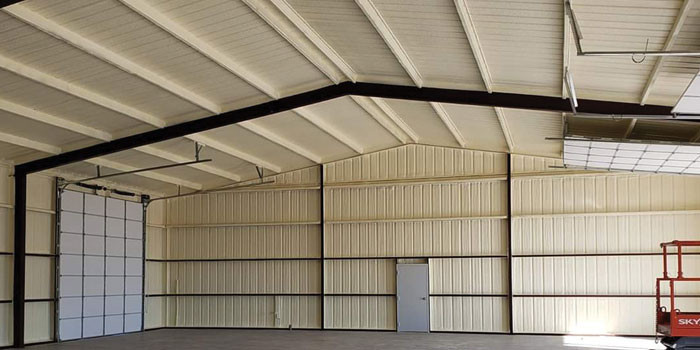 Summer 2020 – Spray Foam Magazine – Some people know what they want to do from a young age and some people play the field, working in different industries until their path leads them to an industry they love. That is exactly what happened with Robert Cockerell, spray foam installer and owner of RMC Spray Foam. Robert was born in Freestone County, Texas where he joined the U.S. Navy as a young man and served aboard the USS Roosevelt CVN-71 as an Avionic Electronics Technician. In this role, he supported the F/A 18 Hornet and the F-14 Tomcat with circuit board level electronic repairs. During his four-year stint in the military, Robert met his lovely wife, Melody, who he is still married to and raising three wonderful children together.
After leaving the Navy, Robert went to Charlotte, North Carolina for about a year working on circuit boards that did a wide variety of functions. Eventually, he and his wife moved back to Dallas, Texas where he worked for Nikon Corporation installing and maintaining the laser systems that make processor chips. Next, Robert decided he wanted to work outside so he started trying his hand at various jobs, including driving an 18-wheeler for North American Van Lines, driving a dump truck, and working with safety and rental equipment in the oil fields.
Robert's father, Donnie, owned an insulation company and had begun adding spray foam to his business and a few short years later, after losing his lead sprayer in 2008, he asked his son to come work for him.
Robert returned home to the county he grew up in and went to work running his father's rig and ultimately ended up running the operation side of his business from repair, to scheduling and spraying. However, in 2015, Robert left his father's business and went to work for another company a few hours away. At the time, he thought he was a good sprayer, until he saw the lead sprayer at the new company. He quickly realized that he had a lot of learning to do. Robert went on to become the go-to man for keeping equipment up and running for all crews and also held the operations manager title for a time.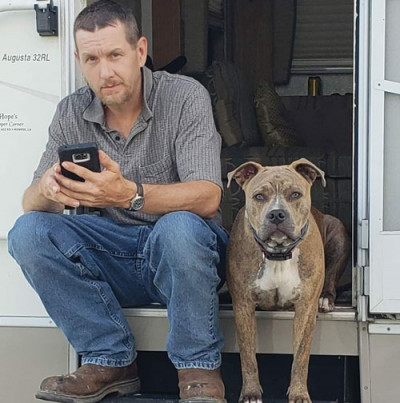 Robert Cockerell and his dog, Tiger
Photo by Abigail Cockerell
Ultimately, with the knowledge, experience, and newly found love of the spray foam business, Robert bought a used rig and had no true plan of action other than the fact that he didn't want to compete with his father in an area with about 60,000 people and four spray foam companies within 30 miles of each other, so he did the only thing he thought was prudent at the time. He offered his services as a gun for hire with his own rig and one helper. Speaking of helper, that would be his son, Wade, who's help, according to Robert, made it all possible.
At first other spray foam contractors were a bit reluctant to use Robert because of the advertising that is typically on one's own trailers. Luckily for them, the only thing Robert's trailer had on it was Spray Foam Insulation, no company name and no phone number. With this in mind, various contractors slowly started calling Robert to help them get caught up with work when they were overbooked or if one of their rigs went down for an extended period of time.
Work began to steadily increase, and Robert realized that the used rig he had was not big enough to help all the people calling him, so he contacted Robin Pence at Intech. She and her amazing team assisted Robert in customizing a rig that is capable of a wide variety of services. The centerpiece of his new rig is his PMC PHD40 with 400 feet of hose. With that, he is capable of doing open-cell foam, closed-cell foam, roofing foam, and more.
Just a few short years after hiring himself out to backlogged contractors, Robert now travels from one end of the country to the other. For example, in January of 2019, he was in Florida spraying and then in January of 2020, he was working in Seattle, Washington with lots of stops all over Texas and Oklahoma. At present and over the next six months, Robert is scheduled on jobs in Tennessee, Florida, New Jersey, Minnesota, and Oregon.
Robert took a unique path in finding his job niche, but his wife says, "He absolutely loves what he does." Robert, who also finds time to work as a volunteer firefighter in his hometown, states, "I enjoy knowing that I do my job to the best of my ability and that I am helping other contractors out of a bind. It is a hard job being away from home most of the time, but it is well worth it."
From a world-traveling Navy sailor to spray foam installer traveling the U.S. coast-to-coast, it's safe to say that Robert Cockerell has found his perfect career and really enjoys helping contractors and teaching his son the family business.