Graco Announces its Top 20 High Performance Coatings and Foam Distributors for 2016
Graco Announces its Top 20 High Performance Coatings and Foam Distributors for 2016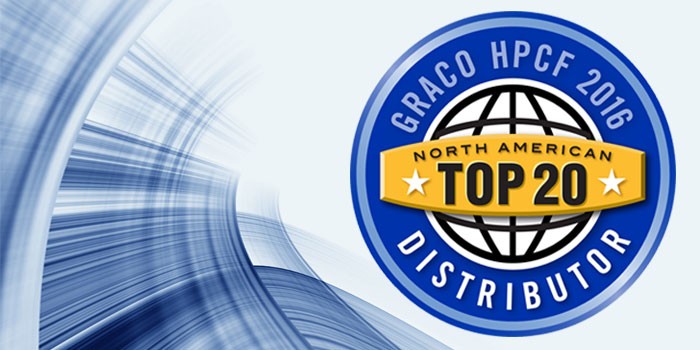 MINNEAPOLIS, MN – Feb. 10, 2017 – Graco Inc., a leading manufacturer of fluid handling equipment, has formally announced its Top 20 High Performance Coatings and Foam (HPCF) North American Distributors for 2016.
The Top 20 Program was established in 2010 to define the top-performing distributors in North America based on sales. Over the past six years, Graco's HPCF sales group has recognized the Top 20 distributors for both our Protective Coatings Equipment (PCE) and our Foam and Polyurea Equipment (FPE) distributors.

The Top 20 North American PCE distributors for 2016 are: Abrasive Products & Equipment; Advanced Finishing Systems; Air Equipment & Repair Inc.; Air Power Inc.; Airtech Spray Systems; Bolair Fluid Handling Systems; CJ Spray Inc.; C.H. Reed Inc.; Coast Industrial Systems Inc.; Dove Equipment de Mexico; EnDiSys; Howard Marten Fluid Technologies; Intech Equipment & Supply; Marco; Midway Industrial Supply; Spray Equipment & Service Center; Spray Pump Inc.; Spray-Quip Inc.; Spray Solutions and Equipment; and Tape Industrial Sales Inc.

RELATED New E-Book 'Top Five Considerations for a Spray Foam Equipment Provider' is Released, Rhino Linings Recognized as a Top Distributor of Graco Polyurea and Spray Polyurethane Foam Equipment, Icynene Spray Polyurethane Foam Insulation Provides Comfort Through the Winter

The Top 20 North American FPE distributors for 2016 are: Accella Performance Materials; Bolair Fluid Handling Systems; CJ Spray Inc.; Chemline Inc.; Demilec USA Inc.; Foampak, Inc.; Intech Equipment & Supply; Line-X; Millennium Custom Coatings; NCFI Polyurethanes; Oak Ridge Foam & Coating Systems, Inc.; Parker-Lajoie Industries Ltd.; Rhino Linings; Service Partners Supply; Spray Equipment & Service Center; Spray Foam Distributors of New England; Spray Foam Systems; Spray Polyurethane Parts; Ultimate Linings; and Urethane Supply.

For more information, visit www.graco.com/HPCF-Top20.

ABOUT GRACO: Graco Inc. supplies technology and expertise for the management of fluids and coatings in both industrial and commercial applications. It designs, manufactures and markets systems and equipment to move, measure, control, dispense and spray fluid and powder materials. A recognized leader in its specialties, Minneapolis-based Graco serves customers around the world in the manufacturing, processing, construction and maintenance industries. For additional information about Graco Inc., please visit us at www.graco.com or on Twitter @GracoInc.
Contact Details
Name: Sara McKeon
Email: Email Us
Phone No: 612-623-6277
Graco Announces its Top 20 High Performance Coatings and Foam Distributors for 2016