Getting to Know the New SprayFoam.com, Part 5: Social Media
Getting to Know the New SprayFoam.com, Part 5: Social Media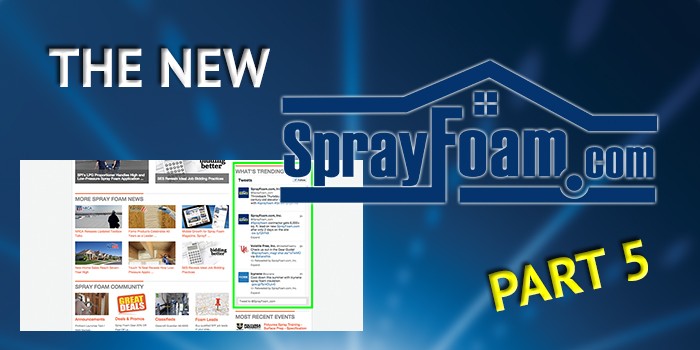 JUPITER, FL–July 31, 2015–Rounding out the introduction to the New SprayFoam.com, we cover the website's new social capabilities. As the web becomes more social, so must SprayFoam.com, and the new website adds a few social elements to connect users to each other and to companies in the SPF industry.
Facebook
The New SprayFoam.com, as we saw in Part 2 of this weeklong introduction, improves the contractor and supplier listings by leaps and bounds. One improvement that was briefly touched on was the new social functionality of the listings, specifically Facebook integration. On every listing, there's a special tab that can display a feed of the company's Facebook page. This adds an extra dimension to SprayFoam.com listings by allowing prospective customers to see a company's latest Facebook posts and even like the page from the listing.
RELATED Getting to Know the New SprayFoam.com, Part 4: Education Center, White Papers, and eBooks, Getting to Know the New SprayFoam.com, Part 3: Gear Guide, Forums, and FAQ's, Getting to Know the New SprayFoam.com, Part 2: Contractor Finder and Supplier Directory, Getting to Know the New SprayFoam.com, Part 1: Welcome and News Updates

Twitter
One of SprayFoam.com's main objectives has always been keeping users informed about whatever was going on in the industry through daily updates of news features. With the New SprayFoam.com, users can now get instant updates from the live Twitter feed, which follows all of the industry's biggest names. Located on the right-hand side of the homepage (under What's Trending), the live feed will ensure users are aware of breaking news and events the second they occur. Users can even tweet @SprayFoam_com directly form the homepage.
Commenting
While the New SprayFoam.com integrates the two largest social media networks on the web, it also offers options for users to connect within the website itself. The New Sprayfoam.com makes a strong push to get users involved with published news content through commenting, which wasn't a significant aspect of the old website. Logged-in users can now post their take on a story in an effort to expand conversations in the industry.
About SprayFoam.com: SprayFoam.com is the number-one website dedicated to spray foam insulation and roofing. With an array of industry news, business listings, educational content, forums, and classifieds, SprayFoam.com connects the entire industry, from contractors and suppliers, to homeowners and builders, to architects and consultants. SprayFoam.com also publishes the industry's widest-read periodical, Spray Foam Magazine.
Contact Details
Name: Ryan Spencer
Email: Email Us
Phone No: 561-768-9793
---
Disqus website name not provided.
Getting to Know the New SprayFoam.com, Part 5: Social Media