Getting to Know the New SprayFoam.com, Part 4: Education Center, White Papers, and eBooks
Getting to Know the New SprayFoam.com, Part 4: Education Center, White Papers, and eBooks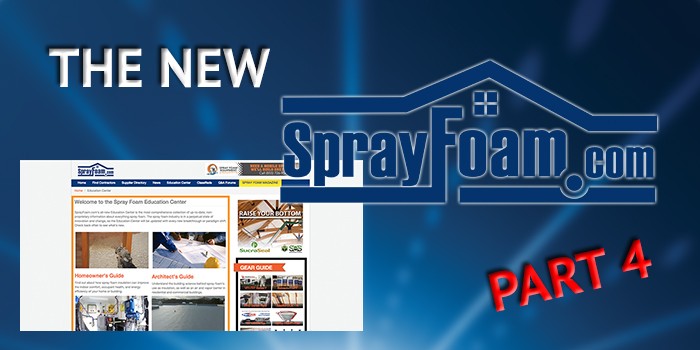 JUPITER, FL–July 30, 2015–With the fourth segment of the introduction to the New SprayFoam.com, we feature the new Education Center, including white papers and ebooks. Information is incredibly valuable when it comes to spray foam insulation and roofing applications, so the New SprayFoam.com puts a distinct focus on providing resources for prospective contractors, homeowners, and building owners.
RELATED Getting to Know the New SprayFoam.com, Part 5: Social Media, Getting to Know the New SprayFoam.com, Part 3: Gear Guide, Forums, and FAQ's, Getting to Know the New SprayFoam.com, Part 2: Contractor Finder and Supplier Directory, Getting to Know the New SprayFoam.com, Part 1: Welcome and News Updates

Education Center
The New SprayFoam.com's Education Center consolidates all of the information previously available on the old website into one convenient and redesigned location–all while expanding the scope of the content itself. At its heart, the Education Center aims to provide users with fundamental knowledge about spray foam, with informational guides about insulation, roofing, equipment, safety, building science, and business. The Education Center can be accessed via the main menu.
White Papers & eBooks
To compliment the Education Center, the New SprayFoam.com integrates white papers and ebooks to give readers more in-depth looks at the foundational topics of the primary content. Self-published ebooks and white paper partnerships are available for users to download and print for free. White papers and ebooks can be accessed within the Education Center.
About SprayFoam.com: SprayFoam.com is the number-one website dedicated to spray foam insulation and roofing. With an array of industry news, business listings, educational content, forums, and classifieds, SprayFoam.com connects the entire industry, from contractors and suppliers, to homeowners and builders, to architects and consultants. SprayFoam.com also publishes the industry's widest-read periodical, Spray Foam Magazine.
Contact Details
Name: Ryan Spencer
Email: Email Us
Phone No: 561-768-9793
---
Disqus website name not provided.
Getting to Know the New SprayFoam.com, Part 4: Education Center, White Papers, and eBooks