Getting to Know the New SprayFoam.com, Part 2: Contractor Finder and Supplier Directory
Getting to Know the New SprayFoam.com, Part 2: Contractor Finder and Supplier Directory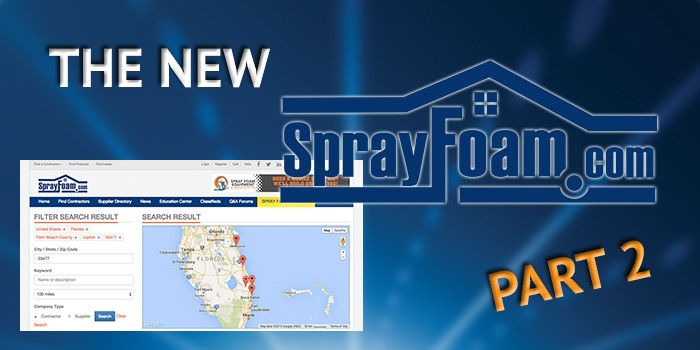 JUPITER, FL–July 28, 2015–In the second installment of the weeklong introduction to the New SprayFoam.com, we discuss the proverbial bread and butter of the website: the Contractor Finder and Supplier Directory. Both have been updated to be more efficient and user-friendly, and ultimately more valuable to how the SPF industry conducts business online.
RELATED Getting to Know the New SprayFoam.com, Part 5: Social Media, Getting to Know the New SprayFoam.com, Part 4: Education Center, White Papers, and eBooks, Getting to Know the New SprayFoam.com, Part 3: Gear Guide, Forums, and FAQ's, Getting to Know the New SprayFoam.com, Part 1: Welcome and News Updates

Contractor Finder

SprayFoam.com's Contractor Finder has long been the best way for homeowners and building owners to connect with a nearby SPF contractor. Now, the Contractor Finder has been completely reimagined from the ground up to be more powerful and more intuitive. No more searching through numerous pages and various categories. Searches are location-based, matching users' location within contractors' service areas and providing search filters to allow users to customize their results. In short, prospective customers can more easily find the contractors they need, which increases the likelihood of contractors landing a job. Furthermore, contractor listings have been redesigned to better facilitate lead generation and connect customers to contractors through social media integration (more about that will be detailed on Friday).
Supplier Directory
Like the Contractor Finder, SprayFoam.com's Supplier Directory has been the SPF industry's best way for systems houses, equipment manufacturers, and distributors to connect with their customers. Also like the Contractor Finder, the Supplier Directory has been totally revamped: using the same location technology, customers can easily find suppliers and distributors near them, so there's no more endless searching through a maze of web pages. Supplier listings have also been revamped to more easily connect prospective customers with distributors and systems houses (read more about the supplier news feed).
About SprayFoam.com: SprayFoam.com is the number-one website dedicated to spray foam insulation and roofing. With an array of industry news, business listings, educational content, forums, and classifieds, SprayFoam.com connects the entire industry, from contractors and suppliers, to homeowners and builders, to architects and consultants. SprayFoam.com also publishes the industry's widest-read periodical, Spray Foam Magazine.
Contact Details
Name: Ryan Spencer
Email: Email Us
Phone No: 561-768-9793
---
Disqus website name not provided.
Getting to Know the New SprayFoam.com, Part 2: Contractor Finder and Supplier Directory