Getting to Know the New SprayFoam.com, Part 1: Welcome and News Updates
Getting to Know the New SprayFoam.com, Part 1: Welcome and News Updates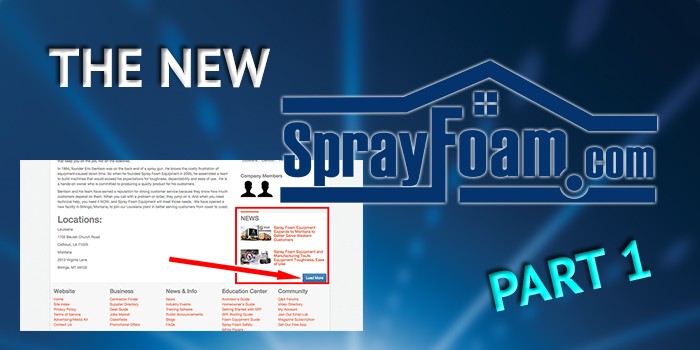 JUPITER, FL–July 27, 2015–As you've probably noticed already, the New SprayFoam.com is finally here. Over a year of planning, not to mention months and months of design work, have finally yielded major enhancements to the spray foam industry's number-one website.
"It's been a long journey, but we think the destination was worth it," said Editor-in-Chief Ryan Spencer. "The website could only have been made possible by input from our users and a tremendous effort from our talented team."
We've upgraded virtually every aspect of the site: the reimagined Contractor Finder and Supplier Directory; the revamped content in the Education Center; the totally new online Gear Guide–the list goes on. These changes will be a boon for our users and the industry, and we'll be highlighting their specifics and their benefits throughout this week, beginning today with news.
RELATED Getting to Know the New SprayFoam.com, Part 5: Social Media, Getting to Know the New SprayFoam.com, Part 4: Education Center, White Papers, and eBooks, Getting to Know the New SprayFoam.com, Part 3: Gear Guide, Forums, and FAQ's, Getting to Know the New SprayFoam.com, Part 2: Contractor Finder and Supplier Directory

New News

News is truly the lifeblood of the spray foam industry–or any industry for that matter. So, a new SprayFoam.com wouldn't be complete without restructuring our news section, and we've done exactly that.
The news stream offers a more user-friendly design with "endless" scrolling and the all-new incorporation of editorial spotlights, as well as better integration on the homepage and in listings for contractors and suppliers.
In fact, supplier listings now feature their own news feeds, tailored to whatever news has been posted about the company on SprayFoam.com. Supplier news feeds are located on the lower right hand side of their listings and can be accessed by clicking the "Load More" button, which leads to a news feed page dedicated to each supplier.
We'll be back tomorrow with more about the Contractor Finder and Supplier Directory.
About SprayFoam.com: SprayFoam.com is the number-one website dedicated to spray foam insulation and roofing. With an array of industry news, business listings, educational content, forums, and classifieds, SprayFoam.com connects the entire industry, from contractors and suppliers, to homeowners and builders, to architects and consultants. SprayFoam.com also publishes the industry's widest-read periodical, Spray Foam Magazine.
---
Getting to Know the New SprayFoam.com, Part 1: Welcome and News Updates