Game-Changing Polyurethane Technologies Sought for Coveted Innovation Award
Game-Changing Polyurethane Technologies Sought for Coveted Innovation Award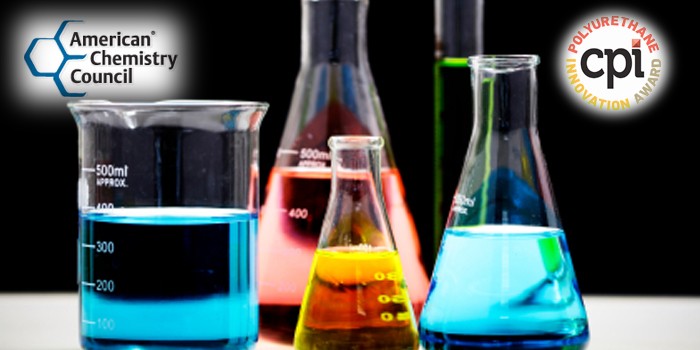 WASHINGTON, D.C – May 4, 2016 – The Center for the Polyurethanes Industry (CPI) of the American Chemistry Council (ACC) is now accepting nominations for the highly coveted Polyurethane Innovation Award. This annual industry-wide competition recognizes the most inventive commercial technologies in the polyurethanes industry. Innovators are encouraged to act quickly and submit their nominations before June 17.
"The discovery of polyurethane chemistry was one of the most important events of the last 100 years," said Lee Salamone, senior director of CPI. "This incredibly versatile substance has virtually limitless applications – from the soles of your shoes to the insulation in your house and the protective sealant on your car's exterior. The Innovation Award exists to encourage brilliant minds to continue pushing the boundaries of how polyurethane can make our lives better. I cannot wait to see the thought and creativity behind this year's entries."
The winner of this prestigious award will be announced at the 2016 Polyurethanes Technical Conference, taking place Sept. 26 to 28 at the Baltimore Hilton.
RELATED "Tiny House" That's Big on Energy Efficiency Arrives at Carnegie Science Center, Registration Opens for 59th Annual Polyurethanes Technical Conference
Last year, Honeywell took home the 2015 Innovation Award for its Solstice® Liquid Blowing Agent, a home insulation product designed to significantly lower global warming potential (GWP) and improve energy efficiency while retaining non-ozone-depleting characteristics.
To enter the awards program, companies or individuals should submit an application no later than 5 p.m. EDT on June 17. Technologies submitted for consideration must have been commercialized no more than 15 months prior to June 17, 2016. Award entries in polyurethane chemistry may include finished products, initiatives, training or education programs, or processes or processing equipment. Entries pertaining to a polyurethane product or polyurethane manufacture must relate to polyurethane chemistry defined as the reaction of an isocyanate with a polyol. This year's submission form details the full terms and conditions.
Visit www.CPItechnicalconference.org for more program information and to register for the Conference.
Contact Details
Name: Lisa Dry
Email: Email Us
Phone No: (202) 249-6523
---
Disqus website name not provided.
Game-Changing Polyurethane Technologies Sought for Coveted Innovation Award