Gaco Western Provides 116,591 Meals Through Northwest Harvest
Gaco Western Provides 116,591 Meals Through Northwest Harvest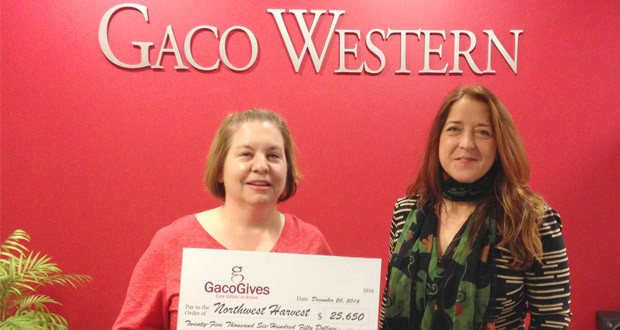 SEATTLE, WA – December 28, 2016 – In November, Gaco Western held its 5th Annual Northwest Harvest Fundraising Drive. Northwest Harvest is a Washington State hunger relief organization whose mission is to provide nutritious food to hungry people statewide in a manner that respects their dignity while fighting to eliminate hunger. Their network consists of 360 food banks, meal programs and high-need schools – all which Northwest Harvest supports with more than 2 million meals every month and 34 million pounds of food each year. All food and operating funds come from individuals, businesses, foundations and other organizations, and 90 percent of Northwest Harvest's total budget goes to food distribution.
1 in 5 kids in Washington State lives in a household that struggles to put food on the table, and 1 in 5 Washingtonians relies on their local food bank. Gaco Western is proud to support the outstanding mission of Northwest Harvest to help our community.
RELATED Dow's Energy Efficiency Innovations Support Advancement of Green Technology Development in China, Hybrid Head Scientist Wins Gold Medals From IFIA For Core Non-Isocyanate Polyurethane Platform Technology Patents, Why Settle For Less?
About Gaco Western: Gaco Western was founded in 1955 with its roots in technology and product innovation. The Gaco family of brands offer best-of-class solutions for a variety of commercial, industrial, and residential applications including specialty coatings for roof, pedestrian and traffic decking, and spray polyurethane foam insulation.
Contact Details
Name:
Email: Email Us
Phone No: 877-699-4226
Disqus website name not provided.
Gaco Western Provides 116,591 Meals Through Northwest Harvest