FYI Network and Loud TV's "Tiny House Nation" Utilizes Demilec Spray Foam Insulation
FYI Network and Loud TV's "Tiny House Nation" Utilizes Demilec Spray Foam Insulation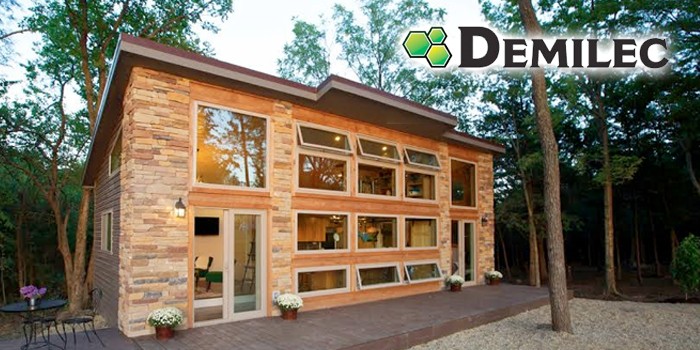 ARLINGTON, TX – July 7, 2016 – Season three of FYI's hit television series "Tiny House Nation," produced by Loud TV, details the challenges and creative solutions for individuals and families trading their big lifestyles for the benefits of living tiny. In the recent episode, "Seven's Company," Demilec, one of North America's largest manufacturers of spray foam insulation and polyurea products, provided spray foam insulation to outfit a 545-square-foot home that would accommodate seven people, a couple and their five sons.
"One of the show's objectives is to demonstrate how today's homeowners can significantly reduce their home's energy consumption with the use of sustainable building materials. Demilec's spray foam insulation is the ideal example of this energy-efficient lifestyle as it provides an insulated and air-sealed environment, cutting the cost of a homeowner's heating and cooling bill," said Douglas Brady, Vice President of Strategic Marketing at Demilec.
"For this project, we provided our high-performing Heatlok spray foam insulation to create a comfortable environment for a large family living in a smaller space."
Demilec's spray foam insulation is an environmentally-friendly and energy-efficient answer to homeowners looking for year-round comfort. These high-performing products reduce heating and cooling costs up to 50 percent and prevent dust, pollen and other outdoor pollutants from infiltrating a living space.
RELATED Demilec Sealection 500 Spray Foam Insulation Now Ignition Barrier-Free for Unvented Attics, SWD Urethane Discusess its New, Game-Changing Open-Cell Spray Polyurethane Foam, Demilec Introduces Heatlok High Lift Spray Foam Insulation
Demilec was also a spray foam provider for the shows' second season. In that season, Demilec supplied spray foam insulation for four episodes, each with its own unique undertaking to give every homeowner the sustainable tiny house of their dreams.
About Demilec: Demilec has been recognized as an industry leader in using innovative technology and advanced science to create a line of open-cell and closed-cell spray foam insulation and coatings for more than 30 years. Demilec focuses on meeting market demands for more energy-efficient products and serves a range of industries, including industrial, residential, commercial, agricultural, original equipment manufacturer, education, water, oil & gas, energy, military and civil. For more information, visit demilec.com.
About FYI: For your inspiration, for your imagination or for your innovation, FYI™ embraces an adventurous, personalized and non-prescriptive approach to peoples' taste, space, look, story and more. FYI covers a range of stories and experiences that reflect how people actually live their lives today, not defined by just one passion or interest. FYI is a division of A+E Networks, a joint venture of the Disney-ABC Television Group and Hearst Corporation. The FYI website is located at fyi.tv.
About Loud TV: Loud TV is a full-service, entertainment production company with a focus on lifestyle programming. Current series include the Tiny House franchise on FYI, including Tiny House Nation, Tiny House Hunting and Tiny House World; as well as FYI's Food Porn, with Executive Producer Bethenny Frankel, and He Shed, She Shed for FYI. The company also is in development on series for a broad spectrum of networks, including A&E, MTV, Travel Channel, Oxygen and Cooking Channel. Loud TV is part of Leftfield Entertainment, an ITV America company
Contact Details
Name: Maggie Montgomery
Email: Email Us
Phone No: 855-400-6895
---
FYI Network and Loud TV's "Tiny House Nation" Utilizes Demilec Spray Foam Insulation