Floods vs. Foam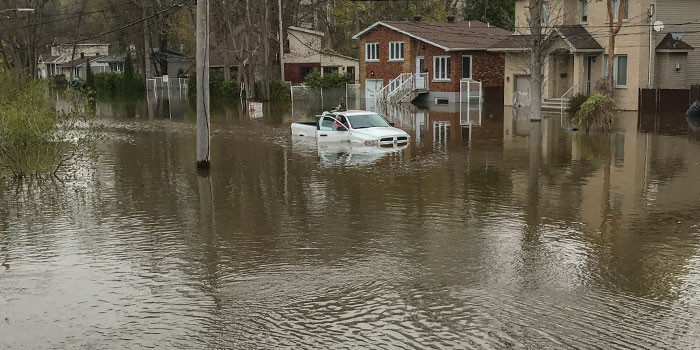 SUMMER ISSUE 2019 (Spray Foam Magazine) – In the spring of 2017, Montreal and other cities in Quebec, Canada were struck with severe flooding. Thousands of homes in the area were severely water-damaged with several feet of standing water in basements and lower floors. On May 22nd, specialists examined the condition of the closed-cell spray foam insulation of one flooded home. After five days of immersion in contaminated water mixed with sewage and oil spillage, the spray foam was not contaminated nor damaged, and had a rapid drying capability.
Before anyone entered the basement of the home, the floodwater had to be pumped out. Floodwater is what home restoration professionals call "Category 3" water, which can contain sewage, bacteria, and spilled hazardous chemicals. Removing this water within days after floods recede is essential to preventing mold and fungal growth that can result in a biohazard.
For this house in particular, once the water was pumped out, flooring and drywall were removed and disposed of, and every surface was cleaned, disinfected, and pressure washed. Crews then brought in dehumidifiers and industrial fans, which ran for five days.
However, water incursion can occur in microscopic areas that even a pressure washer can't reach, and this remaining water can still create a hazard. To ensure that the closed-cell spray foam insulation performs in the real world as well as it does in lab tests, specialists took samples of the home's insulation for laboratory testing, as well as readings of the moisture content in the wooden studs.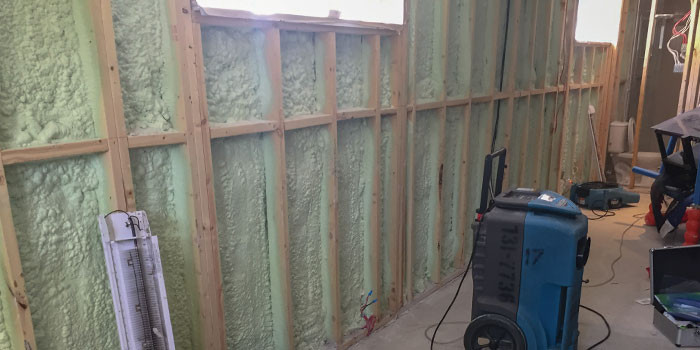 With the help of fans and dehumidifiers, the closed-cell foam was dried out and showed no signs of deterioration. To be sure that this was true, specialists still took samples for laboratory testing.
Their findings revealed that the closed-cell spray foam insulation showed no signs of deterioration after five days of submersion. It grew no mold and absorbed negligible amounts of water. The exposed sections of wood dried quickly, and
while wood embedded in the spray foam remained moist longer, it was still able to dry completely with the help of the fans and dehumidifiers.
Closed-cell spray foam insulation creates a seal against concrete and wood, eliminating air play between the substrate offering nowhere for water to go. This makes it an excellent seal beneath basement floors and around foundation exteriors. FEMA (Federal Emergency Management Agency) classifies closed-cell spray foam insulation as a Class 4 insulation material, which is "resistant to floodwater damage," and NFIP (National Flood Insurance Program) has rated closed-cell insulation as a Class 5 building material, the highest rating for building products. It is also the only cavity insulation to carry this approval.
For this Canadian basement, Demilec's Heatlok® was applied and saved the homeowner thousands of dollars on insulation replacement, since conventional fiberglass insulation, like that in surrounding homes, would have been ruined in these conditions. Experts agree that closed-cell polyurethane spray foam also does much to protect wooden studs in flooded areas. Money saved on materials and labor makes closed-cell spray foam insulation the clear choice for structures at risk of flooding. This includes coastal areas, riverside homes, and other structures in floodplains.