First Annual Foam Expo Opens February 28
First Annual Foam Expo Opens February 28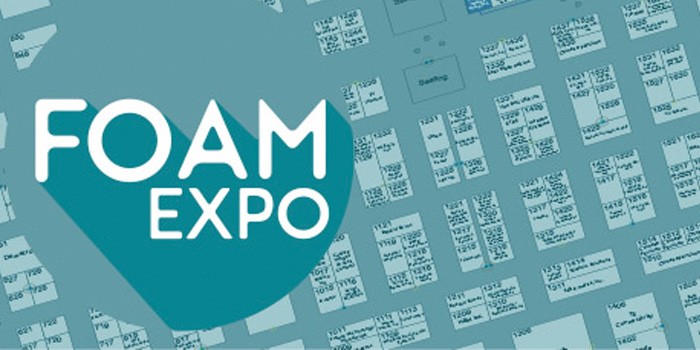 NOVI, MI – February 17, 2017 – Foam Expo is North America's first free exhibition and conference event on the design and manufacture of flexible and rigid foams for technical applications. It is specially designed for foam-industry professionals to network and keep abreast of the latest industry news and developments, while learning about the latest application designs, manufacturing processes, and current trends. Foam Expo takes place from February 28 - March 2, 2017 in Novi, Michigan, USA.
Why Attend
Foam Expo is a free-to-attend conference that offers unparalleled quality content
Network with global representatives from the entire technical foam supply chain
You'll gain a comprehensive insight into the latest rigid and flexible foam materials
Foam Expo provides a unique overview of the wide variety of foam materials available for lightweight, sound/shock absorbing, and thermal applications in technical industries
Keep on top of evolving customer requirements
Stay informed on the latest designs, manufacturing processes, technological advances, materials, and trends so you can manage cost and performance and give your customers what they need
Be seen at the industry's largest free-to-attend exhibition, conference and networking event
RELATED Dodge Momentum Index Inches Up in November, Secretary of Labor Renews Charter of Advisory Committee on Construction Safety and Health, SPFA Adds Two New Jobsite Safety Signs , U.S. Environmental Protection Agency and American Chemistry Council Partner To Promote Sustainable Materials Management
What to Expect

"Our aim is to give the technical foams industry the stage it truly deserves. If you are involved in the purchasing, integration, manufacture or supply of materials, products or equipment, you can be certain that your suppliers, customers, competitors, and peers will all be at the show." Jamie Reid, Foam Expo conference director
Foam Expo is a unique event for the technical foams industry, where professionals can discover new application designs, manufacturing processes, and current trends. It is at the fore of the latest innovations in advanced and technical foam materials and products, and industry insiders attend from around the world – bringing their experiences and ideas with them.

Foam Expo offers you direct contact with the engineers and executives who produce materials and products used in a range of applications – from automotive, aerospace, and construction, to medical, packaging, and sports and leisure uses. You'll see exhibitions of innovative materials and products that set new industry-wide standards. And you'll have the rare opportunity to discuss in person the purchasing, integration, manufacture and supply of materials, products, and equipments with your suppliers, customers, competitors, and peers.

The Experts

"I'm looking forward to networking with our customers and developing relationships with potential customers… [and] to gathering information on new materials and new technologies in the area of foams. The benefit of Foam Expo 2017 is that is it attracting a wide variety of customers and suppliers. The foam industry has matured over the years, and… I'm looking forward to learning about the latest foam technology at the conference and [using] this knowledge to improve my company's products and technologies." Steve Sopher, technical director, JSP, and speaker at Foam Expo
The Foam Expo speaker sessions and panel discussions feature presenters and companies at the forefront of innovation in the sector. We are delighted to welcome 60 high-profile speakers from a wide range of specialisms, including:
The speaker sessions and panel discussions cover the most prominent issues and conversation points in the industry today, including:
Examining the benefits of foam as an alternative design material
Characterizing foam materials to meet industry standards
Eliminating hazardous materials in flame-retardant foam production
Reviewing shock-absorbing properties of foam materials for protective applications
Evaluating thermal properties of foam for improved insulation or conductivity
Utilizing foam to reduce weight and increase payload and fuel efficiency
Optimizing noise reduction and sound absorption with foam materials
Examining processes and technologies for bonding and welding of foam with different materials
Automating assembly lines to optimize production capacity
Examining end-of-life requirements to drive post-consumer recycling
Adopting sustainable materials: the implementation of soybean oil in the automotive industry
Gaining competitive advantage through reducing manufacturing lead time and increasing productivity
Reviewing new product-development processes to reduce project lead time
To sign up for a free pass including access to all conference sessions, exhibits and networking events register online via this link.


Visit www.foam-expo.com/conference-agenda for the full conference agenda.
Contact Details
Name: Alexandra Beveridge
Email: Email Us
Disqus website name not provided.
First Annual Foam Expo Opens February 28