Fire Stopper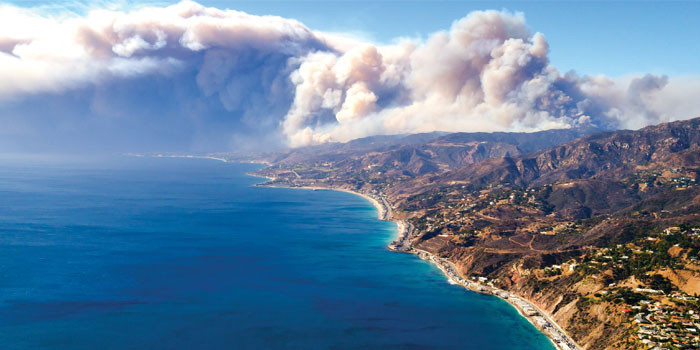 SPRING 2019 – It was a perilous November afternoon in Southern California when a brushfire, which ignited in Woolsey Canyon, was fanned by the mighty Santa Ana winds. It resulted in a devastating conflagration that wreaked havoc throughout Los Angeles and Ventura Counties for days on end. When the fire was finally contained, three people had perished, more than 295,000 had been evacuated from their homes, and over 96,000 acres had been reduced to ash.
The Woolsey Fire, as it came to be known, decimated over 1,643 structures, hundreds of which where located in the Malibu area on both sides of the Pacific Coast Highway. However, two homes situated right in the path of the fire in Latigo Canyon, were saved. How was this possible? Through an opportune installation of a fire retardant, wildfire prevention sprinkler system. The owner of the high-end home had foreseen the vulnerabilities that dry heat and the high winds can give way to and made sure the product covered his home and the grounds, and, as it turns out, enough overspray of the product luckily landed on his neighbor's home, protecting it through the fire. The product that abated the fire was FS-PG™ Perimeter Guard, which is formulated by Flame Seal Products.
"The system completely covered the house and the surrounding landscape as well as the adjacent neighbors home with the FS-PG," explains Flame Seal's Dylan Nowak. "When the areas treated with FS-PG are exposed to fire or extreme heat, the vegetation or wood forms a carbon-char, which interferes with combustion and prevents fire propagation. Both homes survived with little to no damage while several homes in the same vicinity were all lost or heavily damaged."
Formulated by Flame Seal Products, FS-PG is a proprietary powder designed for dilution in water, and it is applied as a passive fire retardant to the natural areas surrounding the perimeter of homes and other landscaped areas. FS-PG™ is a stable, non-separating solution, always ready for deployment. The product is applied to dry grasses, brush, wood, and other cellulose type material, with minimal effect on the environment. The product has been developed to protect the ignition zone outside of the perimeters of structures or landscaped areas during wildfires.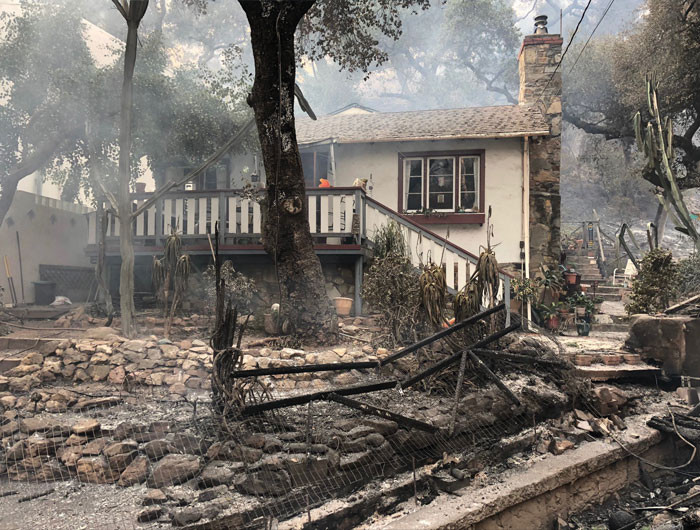 FS-PG Perimeter Guard from Flame Seal Products helped to protect this home and the surrounding vegetation in the Woolsey Fire.
"Homeowners living in fire prone areas are no stranger to the fact that it is nearly impossible to acquire fire insurance, specifically California," says Nowak. "Flame Seal developed this product to offer a solution for those homeowners who are unable to get fire insurance."
Flame Seal has also been heavily involved in the spray foam insulation market since the late 2000's. Flame Seal has a thermal barrier and ignition barrier that carries certifications from many major foam manufacturers.