Fighting Fire with a Brand New Issue of Spray Foam Magazine
Fighting Fire with a Brand New Issue of Spray Foam Magazine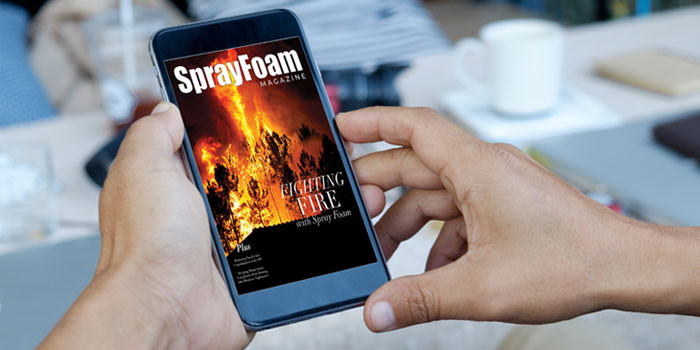 JUPITER, FL – April 1, 2019 – In the 2019 Spring Edition of Spray Foam Magazine, we turn up the heat. Spray Foam Magazine interviews a roofing company, who not only survived the northern California wildfires of 2017, but are also determined to help clients rebuild after a trail of devastation was left in the fires ashes. We also ask questions like, "Do unvented attics help reduce the spread of fire?" and "Is there a product that could help protect a home during a wildfire?"
After all that heat, we cool things down and investigate how closed-cell spray foam may have prevented a costly freeze in a Wisconsin sawmill and how an air respirator system could prevent your crew from getting heatstroke.
Heating up once more, we visited Arizona, where we spoke to an entrepreneurial roofer, who was determined to go solo and start his own successful spray foam roofing company. Spray Foam Magazine then puts Graco's Division President in the hot seat, grilling him with questions about his new role. So wipe the sweat from your brow, take a coffee break and read all about this and so much more in this hot new copy of Spray Foam Magazine.
Spray Foam Magazine's digital issue is now available free online and on mobile devices through the award-winning Spray Foam Magazine App. The print version of the issue will be delivered to the mailboxes of subscribers in the coming weeks.
About Spray Foam Magazine: 
Spray Foam Magazine is targeted to a global audience of building construction professionals and energy-conscious readers. It is distributed bi-monthly to applicators, manufacturers, distributors, specifiers, general contractors, architects, engineers, and managers in both the public and private sectors. •
Contact Details
Name: Spray Foam Magazine
Email: Email Us
Phone No: 561-768-9793
---
Fighting Fire with a Brand New Issue of Spray Foam Magazine