Expanding the Love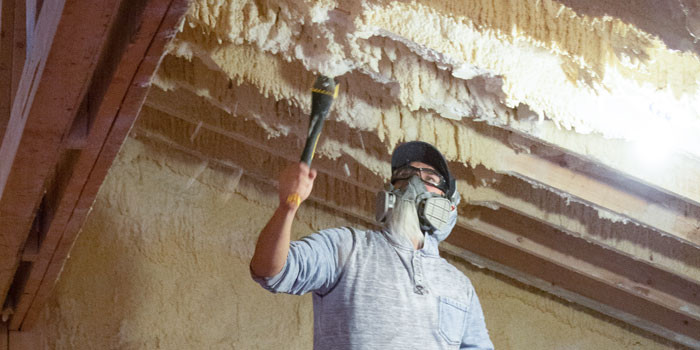 Spray Foam Magazine – Winter 2020 – Working hard and eventually retiring to a picturesque dream home is what many aspire to do. Now, imagine that life's investment being threatened by a rogue contractor.
That's exactly what happened to Bob and Noreen Leasak when they decided to have their large 2298 sq. ft. garage sprayed. The building was to house their RV's and trucks, and like their home, they wanted it to be impeccable. The Leasaks previously had their summer home spray foamed and they were very happy with the end results, so they didn't think twice about having SPF applied in their garage.
Bob had recently broken his back and Noreen was in poor health so having any stress in their lives was the last thing they needed. Little did they know, the contractors they had hired were not professionals and that these scoundrels were going to be leaving behind a horrific nightmare of a mess.
Ben Porter from Polysource Industries Inc., a well-established and respected family run spray foam distribution business, heard about this terrible incident and decided they must step in to help.
Spray Foam Magazine caught up with Ben to find out the entire story. The snow had started falling in Calgary, Canada, and the phone connection was somewhat muffled with numerous voices and background chatter. Ben and a crew of expert, certified sprayers were at the site of the disaster, helping coordinate the cleanup stage of the horrendous mess.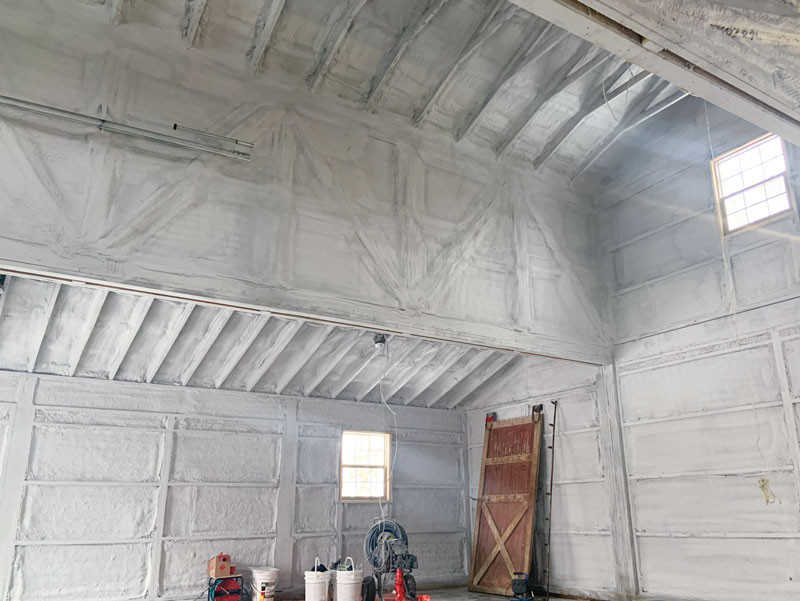 The completed insulated garage once it was repaired
Polysource was launched 27 years ago by Ben's father, David Porter. David started out as a spray foam contractor and as Ben highlights, "He was one of the first spray foamers in all of Canada in the early 1970s. After spraying for years, he then started this distribution business in the early 90s. There just were not many people selling foam up here, or people who just understood foam in general. We are now one of the largest distributors of spray foam, slab jacking, roofing, polyurea, spray rigs, and equipment in Canada and our focus in Canada is truly for the benefit of the industry."
Polysource has a great relationship with other companies in the industry, with amazing people like Luke Egely from Elastochem who, according to Ben, "Worked every step of the way to get this huge undertaking organized." Ben goes on to say, "We also have a wonderful working relationship with Graco, and our rep Wade Hannon really goes above and beyond to help us. I called him up when I heard what had happened and said, 'What can Graco do to help us out?' They were amazing and provided us with gun chambers, rebuild kits for the foamer's who were going to be spraying, and one of their abrasive blasters for the cleanup of the substrate before we added our spray foam. Michael Marlow from HMFT also helped supply the spare parts."
Polysource also received help from SES Polyurethane Systems. Ben proudly states, "We are SES's only distributors for their certified spray foam across Canada. When I called Steve Fortin and explained the unbelievably bad job these people had done, he was in total agreement that we had to group together and make things right for the entire industry, so, SES did not hesitate in helping us out by providing the foam."
Canada has a very stringent certification program for the sprayers and the foam. There is even a color in the foam that shows it's certified and that it is a certain kind of product. Ben recalls, "What happened in this case was the company had been certified in the past by another certification distributor and these contractors had documentation. They showed up in their rig to say they were certified and actually purchased a non-certified foam from us for a non-certified job they were going to do. Little did we know, these people subcontracted the job to people who completely screwed up the work. Honestly I don't think these subcontractors had ever sprayed foam in their lives."
Ben was clearly upset about what these "contractors" had done, "This job was supposed to take a day and a half, but they were on site for a week, until they were kicked off the property by the homeowners."
Ben goes on to explain how he got the call from the distraught homeowners, "Our name was on the spray foam drum, so the couple called us. We get homeowners once in a while saying, 'I'm having an issue with a contractor,' and we are here to help fix any issues. So, I asked them to send us some photos. When we saw the mess we said, 'oh my goodness, lock that site down, its contaminated no one should be in there. One of the homeowners, literally vomited when they entered the garage."
Ben, still obviously in shock by the entire incident, said, "Seriously these people had to be on something. We just could not understand how they could have botched it so badly. The girl helper was walking around barefoot and left raw ISO footprints all over the concrete. The sprayer could not make the gun work, which was knock-off equipment, so they took the gun off of the hose, they tapped the A and B hoses together and they started shooting chemical everywhere."
Ben described the end result as, 'looking like it was a movie set, with a cave full of stalactites.' These rogue subcontractors then had the audacity to demand $70,000 to rip out all of the spray foam and re-spray. "When the homeowners reached out to us, they didn't know what to do. They were absolutely distraught," recalls Ben.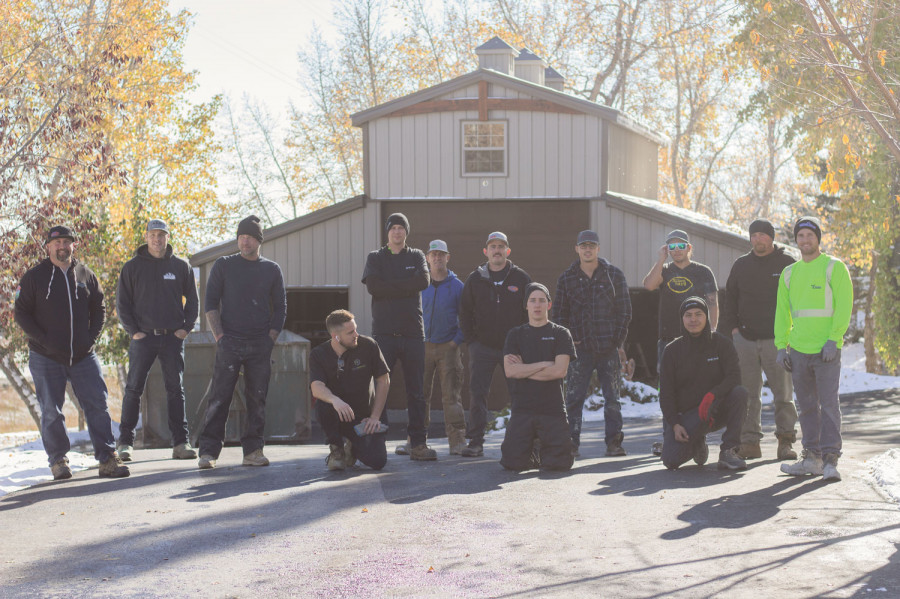 Some of the guys that lent their time and helped with the job. On the first day, more than 20 people showed up from all over the area.
Meanwhile, behind the chaotic scene, Polysource was talking to a number of other companies trying to see what they could do to help. The homeowners were very wary of the industry after such an awful experience, so it took them a while to gain their trust. Ben states, "A big part of that trust was gained through one of our third-party people, Adam Luffman. He is the President of UFC (Urethane Foam Consultants) and they are not only our certifiers but one of the largest third- party certifiers in Canada. They are the only company that we have dealt with that truly has boots on the ground to make things right in this industry. Adam immediately flew from Toronto to assess the job and said, 'it was the worst spray foam job he had seen', and to shut everything down and that it would have to be completely gutted."
Since that moment, Adam has been flying to the site to oversee every step of the project, from removing the foam from the walls and ceiling to discussing the rescue operation "Adam really has been a great help to the contractors and the companies involved in this rescue mission," states Ben. Curt Janzen from, Beyond Foam Insulation Ltd, and one of the contractors helping on the gutting and respray project, stated, "I have been on site almost every-day for the last week and have to say this is one of the hardest things I have ever done. Taking out someone else's bad foam is a maddening process. If it wasn't for the team of companies and suppliers that really stepped up, this would never have been done so fast. Nor would the quality of the final project been so good."
The team at Polysource, in addition to all of the companies who wanted to help by providing their materials and services for free, were patient and wanted the couple to be comfortable in moving forward with the rescue operation, so they waited.
What happened next was, according to Ben, 'a nightmare.' "Next thing you know the story got picked up by one of the largest news outlets in Canada and it was broadcast across the country. It was absolutely terrible for our industry. We really wanted to get ahead of this and finally convinced the homeowner to trust us. We told them, 'we will bring in all of the crews, we will be clean and professional, and we will charge you absolutely nothing. We will make this right. We will spray about two set of SES NEXSEAL 2.0 with two inches in the walls, and three inches in the ceiling and then DC315 coating, which was kindly donated by Genyk Polyurethanes, will go on top of the foam and you will be so happy.' They told us to 'go for it."

Ben was really impressed with the number of contractors who had come to help out on this project, saying "Yesterday there were about twenty-five of us with pickaxes and tools to get the foam off and we put in at least 180 hours of labor. Today there are 15 of us. Skylar Pinchak from High Performance and Matt Lipman from Top Gun Spray Foam were on site every day and applied both the spray foam and DC315 perfectly. They were huge for the success of the job. It's basically all of the major contractors in the Calgary area helping out together and for the respray. Signature Insulation donated the use of their rig for the one day of spraying which was generous."
Ben and the entire crew are dedicated in giving their all to this project. The day we spoke with Ben, he had just flown in from a job in British Columbia especially to be onsite in Calgary. As Ben points out, "This is really a Canadian effort. Everyone has taken so much time, and therefore money to do this. It's actually our busy time here in Canada, with the first snow drifting in and everyone trying to get insulation before the winter."
The media can make or break an industry and to have news crew coming back to report again, but this time on how the professionals were working for free and fixing what was a bad job by rogue contractors, gave a sense of relief and pride for everyone involved.
The crew are braving the cold weather to achieve great results, Ben laughs and says, "We are good hardy Canadians we can cope with the cold."
Bob and Noreen Leasak were so incredibly happy that this team of professionals rescued their building Bob said, "You're special people… thank you so much, you've touched our hearts… we're overwhelmed by your kindness, it really is an unbelievable industry you guys have."
Experts in the spray foam industry take their job seriously and are proud of the work they produce. What happened when these efforts were undermined, was something truly incredible. An entire community of spray foamers, the SFWW social networking group, suppliers, manufacturers, and distributors coming together to solve a problem and doing it all for free. They should all feel proud of what they have accomplished. Making one couple's dream build a happy place once again.