Entry Now Open to Become The Contractor of 2020
Entry Now Open to Become The Contractor of 2020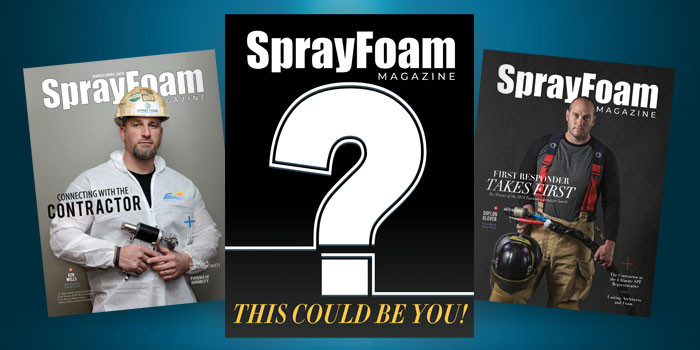 JUPITER, FL – July 31, 2020 – It's that time of year again. SprayFoam.com / Spray Foam Magazine is looking for the next spray foam contractor to feature on the cover of the Winter Issue in December. Previous winners have included Ken Wells of Elite Insulation & Polypro LLC (Broadway, VA) and Daylon Glover of First Alarm Foam Insulation (Lubbock, TX).
The honor of being the Contractor of 2020 provides the opportunity for the winner to receive industry recognition and feature photo on the front cover of Spray Foam Magazine's Winter Issue. Additionally in 2020, due to the overwhelming feedback for this annual cover, we have teamed up with major SPF Industry suppliers to provide some amazing prizes.
We have also expanded the categories to include:
CONTRACTOR 2020 - The winner will 'STAR' on the magazine's front cover, and also have a feature article all about them. Did we mention the top-notch gifts? Be prepared to get excited.
RUNNER-UP - Every year we have some outstanding entries, so the runner-up will have an awesome prizes too, as well as featuring in the winter issue.
RISING TALENT - (New Category for 2020) - This new category will honor the top four young contractors - ages 18-25. These future talents will feature in the magazine providing them with great exposure and getting them noticed.
HOW TO ENTER
(entry must be received before August 31, 2020)
Email cover@sprayfoam.com with the following information:
Which category you (or the person you are nominating) are being entered for
Name of the company you (he/she) work for, job title, and if you (he/she) are entering for future stars please include your (his/her) age
Tell us about yourself (person you are nominating). Why do you think you (he/she) should win? How long have you (he/she) been in the SPF business? IMPORTANT: Besides working in the industry, what do you (he/she) do for the industry or your (his/her) community outside of spray foam work?
Be sure to include your telephone number and contact information – you may just be the one to receive "The Call"!
Contact Details
Name: Email Us
Email: Email Us
---
Entry Now Open to Become The Contractor of 2020