Elite Insulation & PolyPro LLC Applies Spray Foam To Create Air and Vapor Barrier for Hot Yoga Studio
Elite Insulation & PolyPro LLC Applies Spray Foam To Create Air and Vapor Barrier for Hot Yoga Studio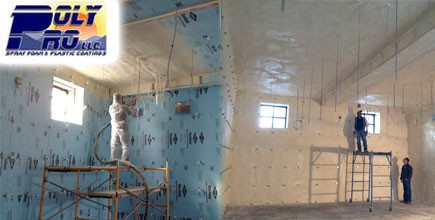 HARRISONBURG, VA – December 12, 2012 – Hot yoga studio owners are often faced with the challenge of maintaining a 105-degree temperature and 40 percent humidity in their studio, the desired climate for their 90-minute yoga sessions. Moisture from the humidity can potentially lead to mold and mildew causing an unhealthy atmosphere for customers and even structural damage to the building. Elite Insulation & PolyPro LLC (EIP) was called in to help solve the problem with spray foam.
Bikram Hot Yoga Studio, located in Harrisonburg, Virginia, set about renovating its facility, which is located on the first floor of a 130-year-old two-story building. According to Ken Wells, an Owner and Manager of EIP, the studio owner's main concern was to provide her customers with a healthy environment and to be a good neighbor to the building's other occupants, which included a law office on the second floor.
"Yoga is supposed to be something that is good for your health," said Wells. "She wanted to keep it a healthy place and she wanted to do it right."
Many yoga studios simply crank up their heat, potentially causing an unhealthy environment as moisture levels from the humidity can lead to mold and mildew. This type of damage could also potentially cause structural problems to other parts of the building. After researching the best way to design a studio with these concerns in mind, the owner, architect, and engineer decided spray foam was their best option.
When Wells arrived at the jobsite, the architect, engineer, and builder were at an impasse about how to best implement spray foam insulation in the studio. They were looking for a system that would reduce as much thermal bridging as possible and wanted to make sure the humidity stayed away from the wood studs.
"If the temperature and humidity leaks through the insulation barrier to the outside wall, you could have condensation issues, which would lead to all kinds of problems," said Wells.
They also knew it had to be a specialized system, which included using a humidifier attached to the HVAC system to obtain desired humidity levels. The HVAC engineer and spray foam applicators would have to work as a team in order to make the design function well as a combined system.
"We can come in and make it tight, but if his system and our system don't jive together, it's not going to work," said Wells.
The spray foam would both function as insulation and as an air and moisture barrier, and would be implemented in the studio in a similar way in which some exterior spray foam applications are done. During such applications, foam is applied to the building's exterior, creating an air barrier. Ties, intended to support the exterior fascia that will be installed over the foam, are affixed to the exterior building substrate and protrude through the foam.
"What we needed to do to have the least thermal bridging and the best chance at a truly sealed envelope was to do an exterior application on the inside," Wells said.
For this interior application, the builder, Herr & Company, Inc., needed to install a substrate since EIP wasn't applying foam to the interior of the building's exterior walls. In this case, the substrate was one-inch, moisture-resistant Dow blue board. The builder installed 4 by 8 ft. sheets of the blue board to the stud frames. They cut the boards where needed in order to accommodate any protrusions. Custom clips were made and fixed to the studs. They would eventually protrude through the blue board and through the spray foam to support the drywall.
"The blue board made a perfect substrate to spray onto and the foam then sealed all the gaps and cracks that would make the blue board faulty as an airtight vapor barrier seal," added Wells.
When EIP was ready to apply the spray foam, building occupants were notified that they would need to leave the building while application was taking place and for 24-hours thereafter. A large fan was used to help create negative pressure in the studio, removing any odor from the building. The only overspray protection needed was to cover some windows and doors with visqueen plastic wrap.
"As the work was done over a weekend, there was plenty of time to air everything out and to make sure it was suitable for everybody to come back into the building," said Wells.
Crewmembers applied two inches of Lapolla FL2000 2 lb. closed-cell spray foam to the blue board substrate over a total spray area in excess of 3,000 sq. ft. It took two crewmembers two days to complete the project, which took place November 30th to December 1st of 2012. Drywall was then installed over the walls and ceiling of the studio, being attached to the custom clips.
The owner of the studio is now satisfied in knowing she can meet her customers' needs without jeopardizing their health, nor the integrity of the rest of the building.
About Elite Insulation & PolyPro LLC: Elite Insulation & PolyPro LLC is a locally owned and operated family business established by Bob, Ken and Chris Wells. PolyPro provides a range of insulation systems to improve the way homes and buildings are insulated. Spray Polyurethane foams and their associated hybrid methods are those systems. EIP is the Valley's leading full-service spray polyurethane foam insulation company. For more information about Elite Insulation & PolyPro LLC, please use the contact details and links provided below.
Contact Details
Name: Ken Wells
Email: Email Us
Phone No: (866) 540-3626
---
Disqus website name not provided.
Elite Insulation & PolyPro LLC Applies Spray Foam To Create Air and Vapor Barrier for Hot Yoga Studio