Don't be Shellfish – Help Save the Turtles
Don't be Shellfish – Help Save the Turtles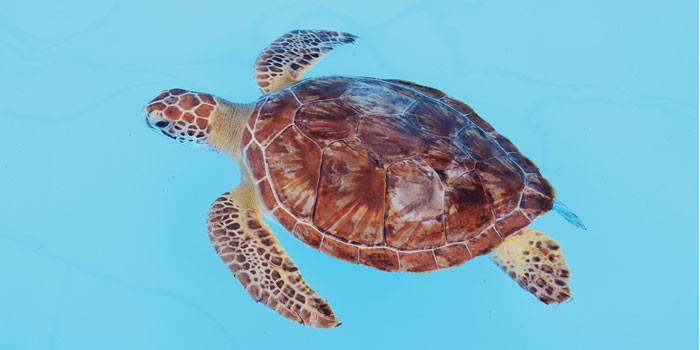 Spray Foam Magazine – Fall 2020 – The team at Spray Foam Magazine is always eager to report on environmental issues and how spray foam, along with waterproof coatings, can help in the efforts to support these matters. After heading to Juno Beach in South Florida, we visited the Loggerhead Marinelife Center (LMC), a rescue center opposite one of the world's most important sea turtle nesting beaches, to find out exactly how these materials are helping save the turtles.
LMC is a nonprofit, scientific center committed to ocean and sea turtle conservation. It welcomes 350,000 guests each year, making it one of the top-visited cultural destinations in Palm Beach County. It features an on-site hospital, a research laboratory, educational exhibits, and aquariums. Between 2017-2019, $12 million was raised for its "Waves of Progress" expansion, which will consist of an additional 27,000 square feet, doubling the hospitality and education capacity and expanding the research laboratory.
LMC Board Chair, Lynne L. Wells, stated, "We are extremely proud of this achievement and grateful to the community for their generosity. To meet the changing needs and challenges of our world's oceans, we need to continue fundraising to stay ahead of the changing ocean ecosystems, and we must continue to research, learn, and educate."
Harvard Jolly, the architect hired, kept in mind that this was an environmentally friendly center, so therefore the materials chosen had to not only be structurally sound, but adhere to the nonprofit's conservational efforts.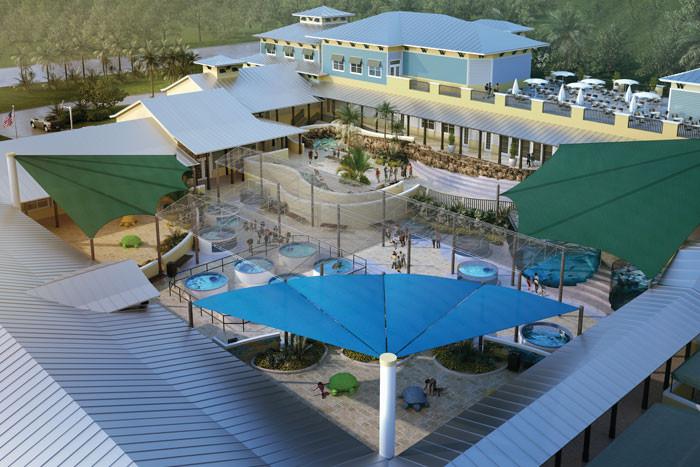 A rendering of the expansion plans of the "Waves of Progress" campaign, which will double the size of the facility with exciting new features.
Photo provided by Loggerhead Marinelife Center
KAST is one of the county's largest construction management and general contracting firms. They won this job through their reputation for great work and being the lowest qualified bidder during pre-construction. They were hired by LMC as a construction management firm and general contractor to oversee the construction of the project which started in October 2019 and will be completed in 2021, pending design of Canopy Footers. They have a reputation for quality, safety, and customer satisfaction.
KAST's team of 260 professionals offer a range of services including: pre-construction, value engineering, BIM modeling (Building Information Modeling), management of LEED requirements (Leadership in Energy and Environmental Design, a green building rating system) and turnkey construction services for projects of any size.
The architect specified that rigid insulation, in this case P-Foil Faced by Johns Mansville, go into the walls of the expansion. This was installed by a drywall subcontractor. The architect also specified that Tremco's ExoAir230, a Fluid-Applied Synthetic Air and Vapor Permeable Membrane, be used for a better waterproofing system behind the Hardie Board and raised water table. This membrane is a monolithic and elastomeric, designed to be rolled or sprayed onto exterior above-grade wall assemblies, mitigating air infiltration/exfiltration and water penetration while remaining permeable to the passage of water vapor. It may also be used as a liquid-applied flashing, enabling the contractor to address both the membrane and flashing needs with a single material.
Icynene spray foam experts, Therma Seal Insulation Systems, who are based out of West Palm Beach, FL and have been an Icynene Gold Circle installer for the past 12 years, were subcontracted to apply spray foam to approximately 15,750 sq. ft. of the new construction. They were called by KAST to value-engineer an energy efficient building envelope, accomplished by installing the foam to the pitched roof decks, where they sprayed nine inches (R33) and properly sealing the perimeter of the attic space. Their spray foam system would help keep the building cool, providing a more comfortable, quieter environment while reducing monthly energy costs.
Nearly 15,750 square feet of new construction was foamed by Therma Seal Insulation Systems.
Before heading to the job, the Therma Seal crew grabbed their PMC PH25 proportioner and checked their safety wear was OSHA compliant, including: full body Tyvek suits, self-contained breathing apparatuses with enclosed face shields and gloves. The KAST crew completed daily reports for each trade, including the spray foam crew and weekly toolbox talks on site. An example of this was making sure installed straps were placed into the structure for Personal Fall Arrest Systems (PFAS) for all trades that went on to the roof on a leading edge.
The architect liked spray foam for its ease of application and the fact it met all insulation values required, in addition to adhering to all the ASTM E84 burn characteristics. The fact that SPF is also water-resistant was essential for this project by helping eliminate the humidity from entering the envelope and reducing the risk of mold or mildew due to condensation being very common in South Florida's tropical climate.
The SPF applied was Icynene Classic Ultra™, a spray-in-place low density, open-celled, flexible, nominal 0.5.lbs/ft3 density foam. Icynene Classic Ultra™ is 100 percent water-blown and therefore has zero ozone-depletion potential and a low Global Warming Potential (GWP of 1) value for foam insulation products. This eco foam was perfect for spraying at the Marinelife Center, where conservation and the ecosystem matter, with the health of the turtles being paramount.
The foam was sprayed onto a metal corrugated decking, concrete deck and some metal framing. To meet the building code requirements, Therma Seal installed the required R-Value per the Energy Load Calculations and then applied 16 wet mils of No-Burn Plus-ThB thermal coating to the surface of the insulation. The SPF was applied in the attic space, helping seal off the attic equipment from the saltwater and preserving the life of all the equipment within the attic. It was also applied under a second floor deck, which will be used as an office space at six inches (R22). The underside of the ocean deck's aluminum louver pergola was also sprayed because the system above didn't meet the R-33 specification; the spray foam made up the difference. The crew used seven and a half sets of foam, and it took nine days to complete the job, with two men installing the Icynene simultaneously in order to speed up the project completion for the client. A couple of painters followed behind them to install the No Burn Plus ThB.
Regional Director of Therma Seal, Tim Finck, stressed why this job was special to him. "Being born and raised in North Palm Beach and often visiting the Loggerhead Marinelife Center growing up, it was a pleasure to be invited by the KAST team to contribute to this state-of-the-art facility. We take pride in our work from the value-engineering process to execution, thus creating an energy efficient building envelope delivering the best air quality and comfort. It is local projects representing a great cause like these which make being a family owned and operated company so great!"
During construction, the KAST crew had to halt operations due to the impending hit of tropical storm Isaias along the South Florida coastline. The construction crew picked up loose material and equipment on the construction site and double sandbagged the construction fence and lowered the screening to allow the wind to pass through with less resistance.
Once the storm had passed, the KAST crew applied Sherwin Williams Loxon XP paint to help prevent damage from future storms with its 130mph wind driven rain waterproofing barrier. It's a premium paint which KAST uses on nearly all of their builds, and even though they know it costs them more, the building's longevity is better with it applied.
Both KAST and Therma Seal had the utmost respect for all the staff at LMC, highlighting the fact they were excellent to deal with despite the challenges of their construction. They were patient when working through various design changes and also pricing additional phases of work. The crews repaid this respect by being extremely careful not to disturb the turtles, keeping well away from them during all the work carried out on site and delivering the best quality for both their human clients and their turtle guests.
About Loggerhead Marinelife Center
...and how you can help!
For over three decades, Loggerhead Marinelife Center (LMC) has been committed to the rehabilitation of sick and injured sea turtles. LMC's advanced hospital, founded by The Gordon & Patricia Gray Family, is one of the leading facilities in the state and a prime resource for sea turtle rehabilitation. It features a surgical suite, upgraded x-ray room, blood work lab, endoscope, and ultrasound—allowing numerous sea turtles to be examined and treated at LMC.
The treatment protocol is from rescue to release—which means that sea turtle patients are released as soon as they are medically cleared. If a patient is deemed non-releasable, it will be transferred to a different facility. All of the sea turtle patients on campus are actively receiving treatment with the ultimate goal to allow each rehabilitated sea turtle back into the ocean as quickly as possible.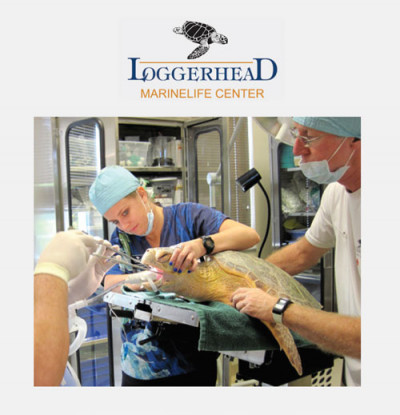 The continued success of Loggerhead Marinelife Center is attributed to the ongoing support of donors. It is through these efforts that the number of LMC visitors increases each year and that LMC is able to provide first rate programming enjoyed by visitors of all ages and from all over the world, plus excellent medical care and treatment to sea turtles. If you wish to help save the turtles, visit www.marinelife.org/help for options to donate, adopt a sea turtle, buy some fabulous merchandise, and locals can also volunteer.
Loggerhead Marinelife Center 14200 U.S. Hwy 1, Juno Beach, FL 33408 // (561) 627-8280

Don't be Shellfish – Help Save the Turtles