DC315 Passes Testing Over BioBased Insulation
DC315 Passes Testing Over BioBased Insulation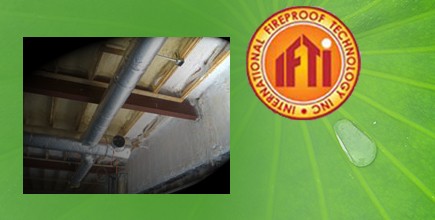 International Fireproof Technology Inc. (IFTI), manufactures of Paint to Protects DC315, and BioBased Insulation ®, announced today that DC315 spray applied coating passed certified testing over BioBased® 0.5 pound open cell foam both as an Thermal & Ignition Barrier.
Testing was run at Intertek facilities in Elmdorf Texas. Meeting the applicable requirements of 2006 IBC Section 803.2.1, 2009 IBC Section 803.1.2, and Section 2603.9; 2012 IBC Section 803.1.2, and Section 2603.10 including Special Approvals for Thermal Barrier Alternatives. The Ignition Barrier testing meets the requirement as an Ignition Barrier per AC 377, Appendix X.
We are very excited that we achieved such a great yield with the DC315 coating. Passing Appendix X with DC315 coating applied to 400 hundred square feet per gallon, is outstanding and leads the industry as the lost cost solution to IB requirement. Our Thermal Barrier testing yields a single coat application of 73 square feet per gallon.
Gary Wolfe, Executive Vice President of IFTI states, "We welcome BioBased to our ever growing family of manufacturers who will settle for nothing less than certified code compliant testing of their SPF brands. IFTI leads the industry with its catalog of tests. Any coating company can tell you their coating will work on the foam brand you spray; it is another thing to prove it with testing. If you are not using DC315, you may not be complying with the codes!"
DC315 has passed testing on Arnette, BASF, Bay Science, BioBased, DOW, Icynene, Lapolla, NCFI, Gaco Western, Johns Manville – Corbond, Quadrant, SWD, CertainTeed, and Henry SPF.
DC315 is a one­-coat, water­ based, latex paint that offers superior fire protection over foam. The coating meets the low VOC emission requirements for use in classrooms and offices as defined in the CA DHS Standard Practice as a low ­emitting material in the "Collaborative for High Performance Schools" rating system. The product applies like regular latex paint using an airless sprayer, and is easy to clean up because it is water based.
To view a complete list of certifed tests and ES Reports, or to visit IFTI's webiste, please see the links below.
About International Fireproof Technology Inc.:
International Fireproof Technology, Inc. (IFTI) manufactures state of the art intumescent fire retardants and thermal barrier coatings. Designed and tested for the global market, IFTI's products are widely used in hospitals, restaurants, nursing facilities, commercial buildings and residential homes. IFTI's products fall under the paint to protect brand, and have been developed to provide superior cost-effective fire protection over Polyurethane Spray Foam, Wood, Fabrics and Drywall.
Contact Details
Name: Gary Wolfe
Email: Email Us
Phone No: 949-975-8588
---
Disqus website name not provided.
DC315 Passes Testing Over BioBased Insulation