Covestro LLC receives US2020's 2016 STEM Mentoring Award for 'Excellence in Corporate Culture'
Covestro LLC receives US2020's 2016 STEM Mentoring Award for 'Excellence in Corporate Culture'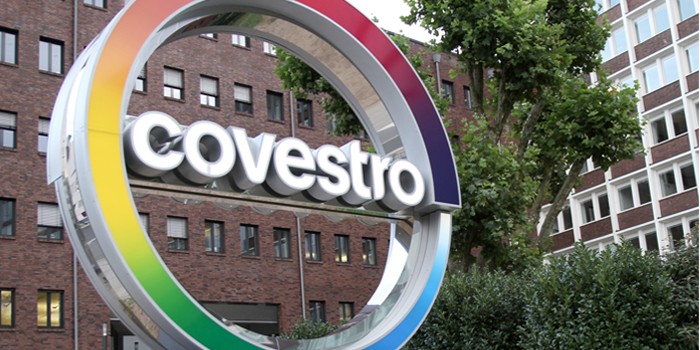 PITTSBURGH, PA
– Aug. 11, 2016 –This morning, US2020 honored Covestro LLC with its 2016 STEM Mentoring Award for "Excellence in Corporate Culture." The national award recognizes Covestro's companywide i3 STEM program, which ignites young minds to become the innovators of tomorrow through hands-on science experiences and employee volunteerism. As an award recipient, Covestro will be participating in a White House STEM Mentoring Symposium later today.
The mission of US2020, launched at the 2013 White House Science Fair, is to change the trajectory of STEM education in America by dramatically scaling the number of STEM professionals mentoring and teaching students, especially those who have been traditionally underrepresented in STEM fields.

More than 150 organizations participated in this year's award series, and Covestro was one of six companies selected for the honor.
"We were thrilled to see the variety and quality of organizations and companies that submitted applications to the 2016 STEM Mentoring Awards," said Nick Hutchinson, executive director of US2020. "Quality, skills-based mentorship is uniquely positioned to address the barriers to STEM access and achievement and has been shown to provide academic and emotional benefits for students, particularly at-risk youth."
Covestro, which operated as Bayer MaterialScience until September 2015, has a 60-year history of strengthening STEM education and fostering a diverse STEM workforce pipeline in the U.S. The company is now pioneering a new approach to STEM mentoring and volunteering with skills-based volunteerism (SBV). The US2020 award acknowledges Covestro's "exceptional work" in STEM mentoring.
"We are truly honored to receive this award, which caps off a successful first year as a new company with a new name," said Jerry MacCleary, president, Covestro LLC. "Our passion for STEM continues to be a fundamental part of our identity. This award not only highlights our commitment to advancing STEM education in communities nationwide, but it also reflects the dedication of our employee volunteers, who serve as mentors and role models to inspire the next generation of innovators."
Approximately 260 employee-volunteers at six U.S. Covestro sites work with more than 100 K-12 schools by participating in classroom visits, career fairs, science nights, mentoring, Girls in STEM programs and other special events. They also have hosted or engaged in dozens of career fairs and conferences at universities. Through these activities, Covestro employees have impacted more than 40,000 students.
RELATED Dow Innovations are Key to Enabling Rio 2016 Olympic Games, Icynene Innovates with Foam Blowing Agent from Chemours, Covestro LLC Announces Sponsorship of Energy Innovation Center
That number continues to grow as the company implements a new, more inclusive approach with SBV. This innovative concept allows virtually any employee to be a STEM volunteer, contributing their particular expertise to solve problems and build capacity for both STEM and non-STEM organizations.
"SBV enables all of our employees to serve STEM education organizations in new and vital ways," said Rebecca Lucore, Covestro's head of Sustainability and Corporate Social Responsibility, North and South America. "For example, Covestro teams have developed a sustainability plan for a Smithsonian Institution affiliate museum, prepared STEM education programming for a world-class botanic garden, and solved a persistent accounting problem at a STEM education organization that couldn't afford paid consultants."
In addition, Covestro is creating and expanding local and national STEM education partnerships with greenlight for girls (g4g), American Chemical Society's Project SEED, and the Manufacturing Institute's STEP Ahead program, among others; sponsoring the Covestro Pittsburgh Regional Science & Engineering Fair; and, supporting employees who volunteer with an official paid-time-off policy.
About Covestro LLC: Covestro LLC is one of the leading producers of high-performance polymers in North America and is part of the global Covestro business with 2015 sales of EUR 12.1 billion. Covestro manufactures high-tech polymer materials and develops innovative solutions for products used in many areas of daily life. The main segments served are the automotive, electrical and electronics, construction, medical and sports and leisure industries. The Covestro group has 30 production sites around the globe and employed approximately 15,800 people at the end of 2015.
About i3 (ignite, imagine, innovate): i3 (ignite, imagine, innovate) is Covestro LLC's companywide corporate social responsibility (CSR) initiative that aims to spark curiosity, to envision what could be and to help create it. Built on the three pillars of STEM education (i3 STEM), employee volunteerism (i3 Engage) and philanthropy (i3 Give), i3 seeks to create sustainable and lasting impacts. i3 STEM ignites young minds to become the innovators of tomorrow through support of hands-on, inquiry-based STEM education, workforce experience and employee volunteerism. i3 Engage re-imagines the way employees from for-profits and nonprofits engage with one another for more effective outcomes. And, i3 Give is designed to innovate corporate philanthropy strategies that combine both human and financial resources to build stronger communities.
About US2020: US2020, a division of Citizen Schools, developed from a White House call to generate large-scale, innovative solutions to our STEM education challenges. Its mission is to dramatically scale the number of STEM professionals mentoring and teaching students through hands-on projects with a focus on serving underrepresented communities—girls, underrepresented minorities, and low-income children. US2020 is supported by national Co-Investors: Alcoa, CA Technologies, Chevron, Cisco, Discovery Communications, HP, Raytheon, SanDisk, Tata Consultancy Services, and Texas Instruments. Through partnerships at the national level and coalitions at the city level, US2020 has built a network of more than 250 organizations in 13 cities actively working to scale the STEM mentoring field, to align the field on common metrics, and to advance a focus on quality. The match-making process and data collection is supported by a dynamic online platform built by pro-bono developer Tata Consultancy Services. To learn more, visit http://www.us2020.org.
Forward-Looking Statements: This press release may contain forward-looking statements based on current assumptions and forecasts made by Covestro AG. Various known and unknown risks, uncertainties and other factors could lead to material differences between the actual future results, financial situation, development or performance of the company and the estimates given here. These factors include those discussed in Covestro's public reports which are available on the Covestro website at www.covestro.com. Covestro assumes no liability whatsoever to update these forward-looking statements or to conform them to future events or developments.
Contact Details
Name: Alice Sox
Email: Email Us
Phone No: 281-350-9000
Disqus website name not provided.
Covestro LLC receives US2020's 2016 STEM Mentoring Award for 'Excellence in Corporate Culture'