Covestro Commits to Further Partnership with Solar Impulse
Covestro Commits to Further Partnership with Solar Impulse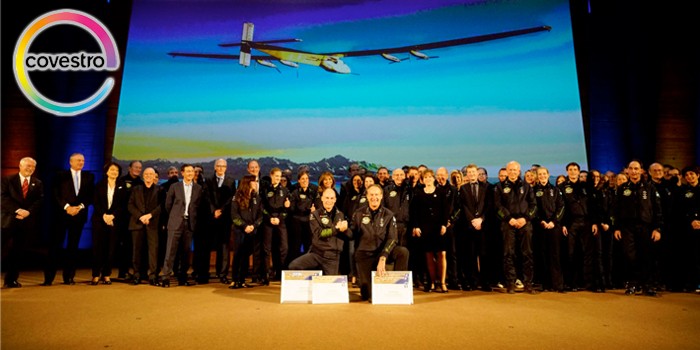 LEVERKUSEN, GERMANY
– December 1, 2015 – Covestro, a leading supplier of innovative high-tech polymer materials, today announced that it is extending its sponsorship with Solar Impulse, as it prepares to complete its journey round the world in 2016.
Covestro, formerly Bayer MaterialScience, has been a Solar Impulse project partner since 2010 and also its official technical partner. It was responsible for the design and construction of the Si2 cockpit which utilizes the most advanced polyurethane and polycarbonate systems, significantly reducing the weight of the plane while ensuring ultimate protection for the pilot.
"To our employees and customers, the Solar Impulse project has become a symbol of Covestro's innovation as well as our ability to provide a wide range of innovative solutions," says Patrick Thomas, Covestro CEO. "We are delighted to be able to continue to support this inspirational endeavor as it embraces our corporate values of Curious, Courageous and Colorful."
Commitment to Sustainability
"Sustainability sits at the heart of our business strategy," says Richard Northcote, Chief Sustainability Officer at Covestro. "This renewed commitment to Solar Impulse includes our role as one of the leading sponsors for the cross-America leg of the round the world journey, which will recommence in Spring 2016. As more consumers seek energy-efficient products and governments start to implement the United Nation's Sustainable Development Goals in legislation, Solar Impulse will play a huge role in showing the world how the technology that exists today can contribute to achieving what many believed was impossible."
Technology developed for Solar Impulse is already used in various everyday products in the automotive and refrigeration sectors. In addition, coatings used on the plane are now also being used in many other industrial sectors.
RELATED
New Construction Starts in 2016 to Grow 6% to $712 Billion, According to Dodge Data & Analytics
,
North American Polyurethane Foam Market Growing at 6% CAGR to 2020, Research Says
,
Housing Markets Continue to Recover at Modest Pace
,
Air Products Introduces Polycat 204 Catalyst for Spray Foam and Other Rigid Polyurethane Foam Applications
Close Cooperation Between Covestro and Solar Impulse
Bertrand Piccard, Initiator, Chairman and Pilot of the Solar Impulse project, said: "Thanks to our delay in the round the world adventure, Covestro will fly with us and demonstrate its essential contribution to Solar Impulse. All our partners share our vision of a cleaner future and the ongoing involvement of Patrick and the Covestro team confirms their commitment to achieving this aim."
Andre Borschberg, Co-founder, CEO and Pilot of the Solar Impulse project, added: "We have valued Covestro's technical input, commitment and innovative spirit since 2010 and are looking forward to working even more closely with them over the next three years."
He adds: "I speak from personal experience when I say the cockpit Covestro designed for Si2, provided Bertrand and I with a comfortable and ambient environment to fly and work in. We are looking forward to getting back inside it for the next leg of the journey in 2016."
Covestro is also supporting Solar Impulse's 'Future is Clean' initiative, which is gathering global support for the use of clean energy, following the ratification of the United Nations Sustainable Development Goals and ahead of the Conference on Climate Change of the United Nations (COP21) this December.
About Covestro:
With 2014 sales of EUR 11.8 billion, Covestro is among the world's largest polymer companies. Business activities are focused on the manufacture of high-tech polymer materials and the development of innovative solutions for products used in many areas of daily life. The main segments served are the automotive, electrical and electronics, construction and sports and leisure industries. Covestro, formerly Bayer MaterialScience, has 30 production sites worldwide and employs approximately 15,700 people (calculated as full-time equivalents) at the end of September 2015.
About Solar Impulse:
The clean tech revolution: The zero-fuel airplane Swiss pioneers Bertrand Piccard (Chairman) and André Borschberg (CEO) are the founders, pilots and driving force behind Solar Impulse, the first aircraft able to fly day and night without a drop of fuel – propelled solely by the sun's energy. With the Si2 aircraft, they are attempting the first Round-The-World Solar Flight. This historic first aims at demonstrating that clean technologies can achieve the impossible.
After the original Solar Impulse Si1 prototype which holds 8 world records, Si2 engineers have designed and constructed a new single-seater aircraft made of carbon fiber. It has a 72 meter wingspan (larger than that of the Boeing 747) for a weight of just 2,300 kg, equivalent to that of a car. The 17,248 solar cells built into the wing supply electric motors (17.5 CV each) with renewable energy. The solar cells recharge four lithium polymer batteries totalling 633 kg each, which allow the aircraft to fly at night and therefore have virtually unlimited autonomy.
For more information, connect with Solar Impulse:
www.solarimpulse.com
Contact Details
Name: Frank Rothbarth
Email: Email Us
Phone No: +49 214 6009 253
Disqus website name not provided.
Covestro Commits to Further Partnership with Solar Impulse