Covestro Closed-Cell Spray Polyurethane Foam Insulation Selected for NextGen Healthy Home
Covestro Closed-Cell Spray Polyurethane Foam Insulation Selected for NextGen Healthy Home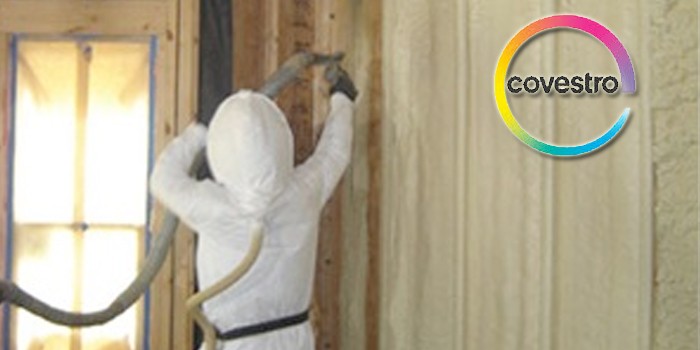 PITTSBURGH, PA – September 30, 2015 – The NextGen Healthy Home 2016 will demonstrate big efficiency building practices and products bundled in a tiny living space. Covestro LLC – formerly Bayer MaterialScience LLC – is a proud sponsor of The NextGen Healthy Home, which will be unveiled at the International Builders' Show (IBS) in Las Vegas in January 2016. The home will be built to achieve net-zero energy usage and is a showcase for products that improve indoor air quality and whole house water quality. The "tiny home" concept harnesses the current interest in living large within a smaller home footprint. The NextGen Healthy Home sponsorship is the first sponsorship for the Covestro spray polyurethane foam (SPF) business unit under the company's new name. Covestro will donate Bayseal® Closed-cell (CC) SPF insulation for the home.
A new NextGen home has been unveiled at IBS for the past 12 years, giving builders and designers an easy opportunity to see new products in use. The 2016 home is the physical display that will culminate with an online video series on NextGen Home TV www.NGHTV.com, where Ty Pennington is currently hosting his "First to the Future Home" show.
Several episodes will be produced showcasing various space saving strategies used throughout the house. At less than 900 square feet, the NextGen Healthy Home will be a whopping 1,700 square feet smaller than the average home built in the U.S. in 2014.

RELATED DOE Releases Common Definition of Zero Energy Buildings, Campuses and Communities; ASHRAE Commends Efforts, Honeywell's Breakthrough Solstice® Liquid Blowing Agent Named Finalist For Innovation Award, Seven Products Now on BPI Product List
"This is an exciting opportunity for us, to be part of a showcase home that will exemplify two of the biggest trends in homebuilding today – smart and small. Energy efficiency is the outcome of a home designed to be smart, to work as an integrated system rather than many separate components. Covestro SPF systems help optimize the whole system," said Jeremy Parker, national sales manager for Covestro spray insulation and roofing systems.
The home will be open for tours at IBS 2016 in Las Vegas, January 19-21. Covestro will be located in booth #C6847 in the central exhibit hall.
About Covestro LLC: Covestro LLC is one of the leading producers of high-performance polymers in North America and is part of the global Covestro business. Covestro manufactures high-tech polymer materials and develops innovative solutions for products used in many areas of daily life. The main segments served are the automotive, electrical and electronics, construction and sports and leisure industries. The Covestro group has 30 production sites around the globe and employed approximately 14,200 people at the end of 2014. Covestro is a Bayer Group company.
Find more information at www.polyurethanes.covestro.com
Forward-Looking Statements: This news release may contain forward-looking statements based on current assumptions and forecasts made by Covestro AG or subgroup management. Various known and unknown risks, uncertainties and other factors could lead to material differences between the actual future results, financial situation, development or performance of the company and the estimates given here. These factors include those discussed in Covestro's and Bayer's public reports which are available on the Covestro website at www.covestro.com as well as on Bayer AG's website at www.bayer.com. Covestro assumes no liability whatsoever to update these forward-looking statements or to conform them to future events or developments.
Contact Details
Name: Martha Vandamme
Email: Email Us
Phone No: 1-412-413-2000
Covestro Closed-Cell Spray Polyurethane Foam Insulation Selected for NextGen Healthy Home