Covestro A Premium Partner of the Deutsche Eishockey Liga
Covestro A Premium Partner of the Deutsche Eishockey Liga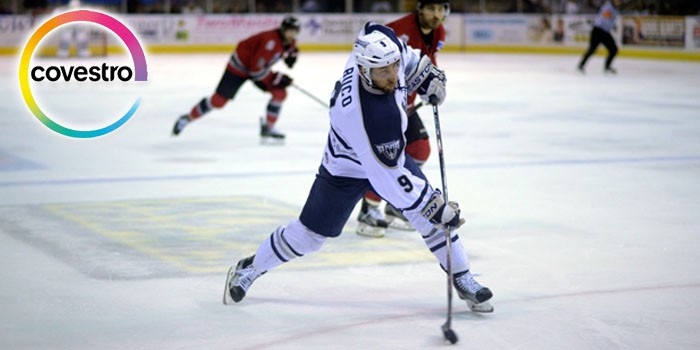 PITTSBURGH, PA
– August 23, 2016 – Covestro has become a new premium partner of the Deutsche Eishockey Liga (the German Ice Hockey League, or DEL). The company and the sports league have agreed to enter into an initial four-year partnership, starting with the coming 2016-2017 season. The Covestro logo will be displayed under the ice in all DEL arenas and on the referees' helmets. Other elements of the partnership are branding on backdrops for TV broadcasts and for sports news coverage, as well as branding on the official puck beginning with the 2017-2018 season.
"The DEL's commitment and our high-performance materials are the perfect combination to ensure fans will enjoy games that are thrilling, but also safe," says Patrick Thomas, CEO of Covestro. "This is what we want to make visible and build upon together in the future," Lutz says. "We are looking forward to a long-term partnership with the German Ice Hockey League."
DEL General Manager Gernot Tripcke also sees clear benefits in the new partnership. "We are delighted to have such a strong partner in Covestro. The company shares our love of ice hockey and can support us with its know-how."
Ice-cold Passion
Ice hockey is a fast, physical game in which players are allowed to collide hard with their opponents. So all players need good protection. And that's where Covestro comes in. With its advanced, high-tech materials, the company protects the athletes from injury while also making sure they have the greatest possible freedom of movement.
That applies in particular to the goalie. Whether it is the puck flying at him like a shot or scuffles in and around his goal crease, the goalie must be protected from head to toe. The helmet can be made of impact-resistant polycarbonate blends, and the players' visors are transparent polycarbonate.
The chest protector has to provide good shock absorption to soften impacts. That's why it's made of a flexible elastomer with special microspheres. Arm and leg protectors can be padded with flexible polyurethane foam.
Covestro products also give the hockey sticks the strength they need. These can be manufactured in a special process using polyurethane resin and reinforcing fibers, for example. Elastomers in the stick's outer envelope cushion shocks and prevent damage to the stick from abrasion or breaks. Even the puck can be made of Covestro elastomers, which give it the necessary solidity and elasticity.
RELATED
Plastics Make It Possible® Unveils New "Tiny House" That's Big On Energy Efficiency At The California Science Center
,
Honeywell's Low-Global-Warming Insulation Material Wins Green Building Products Award
,
Building a Brighter and More Sustainable Future with Covestro
,
Huntsman Polyurethanes Announces Release of TEROL® 649 Aromatic Polyester Polyol
Optimal Protection with Unobstructed Vision
The "glass" surrounding the hockey rink must meet very demanding requirements. It has to provide not only full protection for the spectators, but also a safe and reliable support for the players when things get rough on the ice. On the other hand, the fans want a clear view of the rink at all times to feel close to the action.
Solid polycarbonate sheets made of Makrolon® GP are ideally suited for this purpose. They provide extreme impact resistance even at temperatures as low as minus 100 degrees Celsius, so spectators and players can feel safe at all times. The sheets are six millimeters thick and also highly transparent, providing an unobstructed view of the rink.
Covestro developed Pasquick® technology for very economical and flexible protection of steel structures and flooring. Compared to conventional protective processes, the technology involves using fewer coats and also cures faster. Pasquick® protection is thus less costly and less time-consuming, while delivering results that are just as long-lasting and high in quality as other solutions. This, too, can be of benefit to ice hockey arenas.
Thus Covestro materials can make an important contribution to ensuring that ice hockey in Germany will always be what it is today – an ice-cold passion.
About Covestro:
With 2015 sales of EUR 12.1 billion, Covestro is among the world's largest polymer companies. Business activities are focused on the manufacture of high-tech polymer materials and the development of innovative solutions for products used in many areas of daily life. The main segments served are the automotive, electrical and electronics, construction and the sports and leisure industries. Covestro, formerly Bayer MaterialScience, has 30 production sites around the globe and as of the end of 2015 employed approximately 15,800 people (full-time equivalents).
About the Deutsche Eishockey Liga (DEL):
The Deutsche Eishockey Liga (German Ice Hockey League) is the top-tier professional league in German ice hockey. Between September and May, 14 clubs compete for the German ice hockey championship and also to qualify for the Champions Hockey League. For 22 years now, the DEL has been presenting action-packed games week after week that reflect the values excitement, speed and passion. With its modern arenas, international stars and numerous national team players, the DEL has developed a fan base for ice hockey that now totals more than 19 million people in Germany.
Forward-looking statements
: This press release may contain forward-looking statements based on current assumptions and forecasts made by Covestro AG. Various known and unknown risks, uncertainties and other factors could lead to material differences between the actual future results, financial situation, development or performance of the company and the estimates given here. These factors include those discussed in Covestro's public reports which are available on the Covestro website at
www.covestro.com
. Covestro assumes no liability whatsoever to update these forward-looking statements or to conform them to future events or developments.
Contact Details
Name: Frank Rothbarth
Email: Email Us
Phone No: +49 214 6009 253
Covestro A Premium Partner of the Deutsche Eishockey Liga