Chemline 7025 Offers Lasting Protection Against Rust and Corrosion for Trucks and Trailers
Chemline 7025 Offers Lasting Protection Against Rust and Corrosion for Trucks and Trailers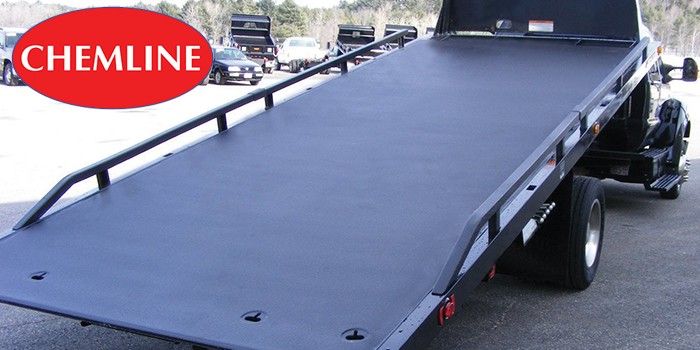 ST. LOUIS, MO – November 21, 2017 – Chemline, Inc. offers CHEMLINE 7025, a polyurea hybrid coating used to protect trucks and trailers against rust and corrosion due to weather, de-icing chemicals, and other adverse conditions. It provides an exceptional impact and abrasion-resistant barrier against scratches from gravel and dents from hauling animals or heavy equipment.
CHEMLINE 7025 is a fast-set, spray applied, two-component, polyurea hybrid coating that contains 100% solids and zero VOCs. For expedited productivity and reduced labor cost, it has a gel time of 8 seconds and can be handled as early as 60 seconds. CHEMLINE 7025 is unique in its resistance to blistering in humid application environments.
Physical properties of CHEMLINE 7025 include:
Hardness…………………..Shore 90 A
Abrasion Resistance……...20 mg loss
Tear Strength……………...350 pli
Tensile Strength……...…...3500 psi
Ultimate Elongation……….250 %
CHEMLINE 7025 is applied with a 1:1 high pressure, heated plural component proportioning unit and an impingement style spray gun. The recommended spray equipment is the Graco Reactor E-XP2 or H-XP2. Chemline is also a GRACO Top 20 Advanced Distributor, and can provide training on use of the liquid materials, as well as the proportioning equipment and spray guns.
Chemline's staff of experienced chemists can customize CHEMLINE 7025, or any of their coatings, for specific applications.

ABOUT CHEMLINE
Founded in 1997, Chemline is an industry leader in fast-set polyurethane and polyurea coatings. The company's 100% solids, spray-applied products are used by OEMs and applicators around the world as protective coatings for metal, wood, concrete, foam and other materials. Chemline operates a 170,000 sq. ft. plant at its headquarters in St. Louis, Missouri, with an additional manufacturing facility in Los Angeles, California.
Contact Details
Name: Megan Muccigrosso
Email: Email Us
Phone No: 314.254.2722
Disqus website name not provided.
Chemline 7025 Offers Lasting Protection Against Rust and Corrosion for Trucks and Trailers