Architectural – And SPF – Landmark
Architectural – And SPF – Landmark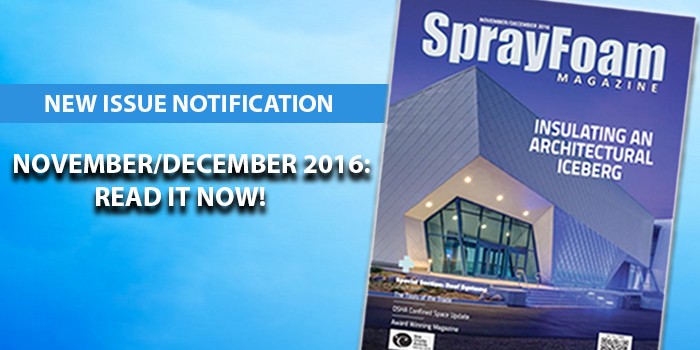 JUPITER, FL
– November 1, 2016 – The Polk Penguin Conservation Center at the Detroit Zoo is an architectural masterpiece. Designed by the famed Kahn & Associates, the newly opened building is already winning awards. The building employs state-of-the-art materials throughout – including its spray foam air barrier. The November/December 2016 issue of Spray Foam Magazine tells the remarkable tale of just what it took to ensure that the penguins live in frigid wet comfort, while their visitors stay warm and dry. Read about it in the digital issue – now available online for free and on mobile devices through the award-winning Spray Foam Magazine App. The print version of the issue will be mailed to subscribers in early November.
We also feature a special roofing section with articles detailing projects in locations as varied as dry Santa Fe, New Mexico, windy and wet Littleton, Colorado, and frozen Nuiqsut, Alaska – North of the Arctic Circle.
Click Above to Read the Latest Issue


Highlights from the November/December 2016 Issue
• Insulating "Antarctica" with Spray Foam
• The Bat Bridge
• Santa Fe Roof: Saving The Environment and Energy
• Frozen Alaska Roof Saved By SPF
• The Tools of the Trade
• OSHA Confined Spaces Ruling Update
About Spray Foam Magazine: Spray Foam Insulation & Roofing Magazine is targeted to a global audience of building construction professionals and energy-conscious readers. It is distributed bi-monthly to applicators, manufacturers, distributors, specifiers, general contractors, architects, engineers, and managers in both the public and private sectors. For more information, or free instant access, please use the links provided below.

Contact Details
Name: Jen Kramer
Email: Email Us
Phone No: 561-768-9793
---
You May Also Like
Architectural – And SPF – Landmark