A 3D Cabin in the Woods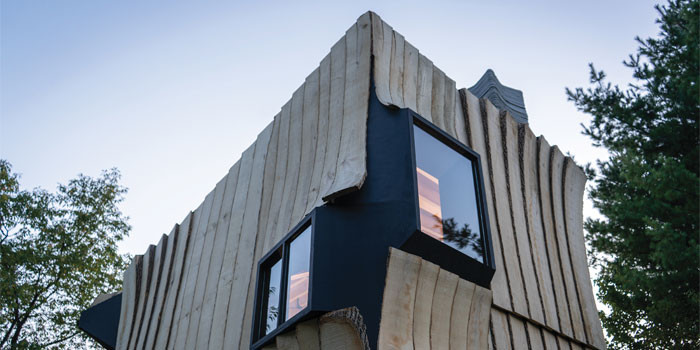 SPRAY FOAM MAGAZINE – Show Issue 2021 – Leslie Lok and Sasa Zivkovic are Assistant Professors of Architecture at Cornell and co-principals of their design firm, HANNAH. They have designed and constructed a full-scale prototype cabin home in rustic upstate New York with the overall objective of responding to the condition of the natural environment and providing possible green solutions like the use of energy-efficient closed-cell spray foam.
The 'Ashen Cabin' is an architectural prototype that incorporates high precision 3D scanning and robotic based fabrication technology and demonstrates a new way to think about sustainable housing design and construction. Its resourceful strategy combines two of the most widely used construction materials in the U.S., concrete and timber, while altering the techniques and approaches to incorporate these materials.
Resembling something out of a Brother's Grimm storybook, Ashen Cabin is layered and angular from the robotics and 3D printed concrete. The Robotic Construction Lab (RCL) at Cornell built the platform specifically for processing the materials. They created 3D scans as a basis for digitizing and transforming the complex and irregular geometries of the Emerald-Ash-Borer-infested "waste wood" into an abundantly available, affordable, and sustainable building material. The robot was then programmed to cut and process irregular wood geometries.
The full-scale 3D printing system required no formwork and used a minimum amount of concrete in the production process. This resulted in saving a substantial quantity of material, significantly improving the CO2 footprint of concrete construction.
The architects insulated the cabin themselves using slow-rise closed-cell foam, 3.5" thick in the exterior walls, covering approximately 300 sq ft. The architects clarified that, "We wanted to make our own experimental structural insulated panels (SIP), using robotically cut ash wood that is infested by the Emerald Ash Borer. We used the closed-cell foam as insulation and binding agent."
The off-grid cabin has no power or running water and is heated by a built-in fireplace. The architectural team did however incorporate a camping sink made from coiled concrete.
There is a 3D printed concrete bench inside the cabin as well as storage, and a plywood structure that transforms into a bed.
These architects have taken design, technology and sustainability to the next level by responding to environmental concerns and advancing the use of technologies such as CNC (computer numeric control) and 3D printing in timber and concrete construction and implementing energy-efficient materials like SPF.